2019 Volkswagen Jetta vs Mazda3
Our team at Volkswagen Lee's Summit is dedicated to providing drivers in Lee's Summit, North Town, and Overland Park with a fun and simple car buying experience. Small to midsize sedans have proven to be one of the most popular car models in the country due to their handling, fuel economy, and efficiency. Two of the most popular models currently on the market are the 2019 Volkswagen Jetta vs. 2018 Mazda3. While both vehicles have similar features, once you begin to look closer, you'll realize just how different they can be.
Safety in the VW Jetta vs Mazda3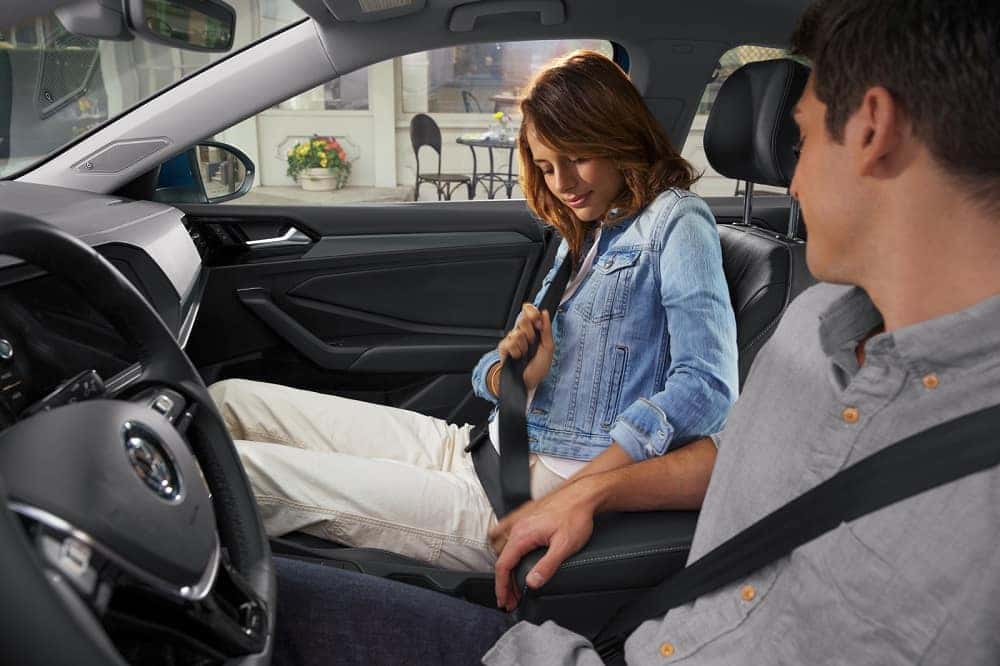 The 2019 Volkswagen Jetta comes equipped with Forward Collision Warning and Autonomous Emergency Braking (Front Assist). This safety feature can sense when you're rapidly approaching the car in front of you and then slows the vehicle down, giving you an ample amount of time to hit the brakes and avoid a collision. The VW Jetta also features Rear Cross-Traffic Alert, Blind Spot Monitoring, and Lane Keeping Assist, which will help you merge carefully and efficiently during any traffic pattern or flow.
The Mazda3 also comes with an assisted driving system called i-ACTIVSENSE, but at an extra cost, unlike the safety features in the 2019 Volkswagen Jetta, which come standard in every vehicle. Mazda's i-ACTIVSENSE system also doesn't come with as many bells and whistles as the VW Jetta. The i-ACTIVSENSE system can alert you when you're rapidly approaching the vehicle in front of you, or when other vehicles are getting too close to you, but it doesn't slow the vehicle down.
Engine and Fuel Economy
According to the EPA-estimates, the VW Jetta 1.4T Manual and Auto models get 30 city/40 hwy*, while the Mazda3 2.0-liter 4-cylinder Manual and Auto models only get 28 city/30 hwy. The Volkswagen Jetta also has more torque than the Mazda3—the VW Jetta comes in at 184 lb-ft of torque compared to the Mazda3, with its 150 lb-ft of torque.
The VW Jetta has more gear ratios and gives you the option to choose up to an 8-speed automatic transmission, which allows for lower engine speed and better acceleration. The transmission options in the Mazda3 top out at just a 6-speed.
Technology and Sound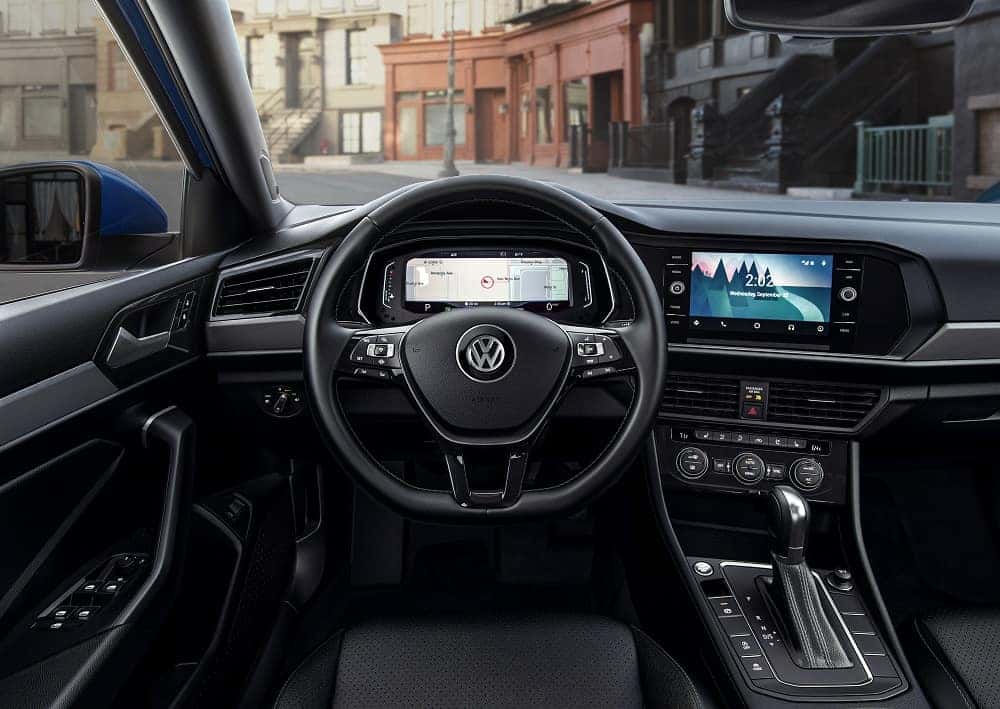 The Volkswagen Jetta offers sound you can feel with the BeatsAudio™ Speaker System that supports Apple CarPlay™, Android Auto™, and MirrorLink®. This allows you to effortlessly connect your smartphone to the 8" touchscreen navigation system. Mazda3's touchscreen navigation system measures in at 7" and only streams audio entertainment via Bluetooth®, which doesn't give you access to all your smartphone apps like the sound system in the VW Jetta.
Design and Style
When it comes to personalizing the color, style, and design of your vehicle, the Volkswagen Jetta offers plenty of options. The VW Jetta comes with your choice of nine exterior color options including Pure White, White Silver Metallic, Platinum Gray Metallic, Tornado Red, Habanero Orange Metallic, Sage Green Metallic, Silk Blue Metallic, Black, and Deep Black Pearl Metallic. The Mazda3 only comes in three exterior color options: Machine Gray Metallic, Snowflake White Pearl Mica, and Soul Red Metallic.
As far as interior seating material and color options go, the Volkswagen Jetta offers three materials: cloth, V-Tex leatherette, and leather. The VW Jetta also offers five color options ranging among Gray, Black, and Beige. The Mazda3 only offers Black or Sand color options. The VW Jetta offers four wheel options, while all Mazda3 vehicles come standard with the same set of wheels.
Find Out More About the 2019 Volkswagen Jetta
As you can see, the VW Jetta brings a lot to the table. If you like what you've read and want more information, or you'd like to schedule a test drive with the 2019 Volkswagen Jetta, contact Volkswagen Lee's Summit. We're happy to help drivers in Lee's Summit, North Town, and Overland Park learn more about their favorite vehicles!
* 30 city/40 highway MPG (2019 VW Jetta 1.4L, 6-speed manual transmission). EPA estimates. Your mileage will vary and depends on several factors, including your driving habits and vehicle condition.