Volkswagen Jetta vs Ford Focus
Both the 2018 Volkswagen Jetta and the 2018 Ford Focus are sensible, compact vehicles that deliver all that you could want from this type of vehicle. They're also both versatile vehicles that have a variety of options to adapt them to your needs, so which one is the right choice for you?
Drivers in Lee Summit, North Town, Overland Park, Mission, and Olathe can learn the key differences between the 2018 Volkswagen Jetta and the 2018 Ford Focus with our vehicle comparison.
Performance
The Volkswagen Jetta is powered by a turbocharged 1.4L 4-cylinder which generates 150 horsepower. It can be paired to a 5-speed manual or a 6-speed automatic transmission. Other options for the engine include a 1.8L turbo-4 which generates 170 horsepower or a 2.0L turbo-4 which generates 210 horsepower.
The Focus uses a 2.0L 4-cylinder engine as its base option, which can be paired with the choice of a manual, automatic, or dual-clutch transmission. This engine produces 160 horsepower, which is the highest horsepower available for the sedan model. The Focus also has a smooth ride quality, but the dual-clutch transmission can become jerky at low speeds.
Interior Space & Amenities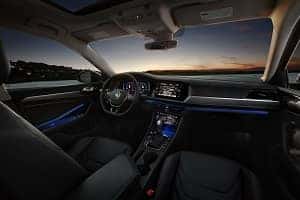 The 2018 VW Jetta and 2018 Ford Focus offer plenty of space for five passengers. For example, the Jetta has 41.2 inches of front legroom, 38.1 inches of rear legroom, and 94.1 cubic feet of passenger volume.
The Focus offers a bit more legroom in front, with 43.1 inches. However, its rear legroom measures at just 33.2 inches. Plus, it only offers 90 cubic feet of passenger volume.
Not only will you find more passenger room in the Jetta, but you'll get more cargo space, too. It has a 15.7-cubic-foot trunk, whereas the Focus only has a 13.2-cubic-foot trunk.
However, they both offer lots of amenities to help make your drives more comfortable. For example, they each have available heated front seats to stay cozy on colder nights. They also offer dual-zone automatic climate control. This lets the driver and front-seat passenger choose their preferred temperature setting, so no one needs to stay too hot or too cold.
Safety
The VW Jetta and Focus are very reliable vehicles. In fact, they each earned a 5-Star Overall Safety Rating from the National Highway Traffic Safety Administration.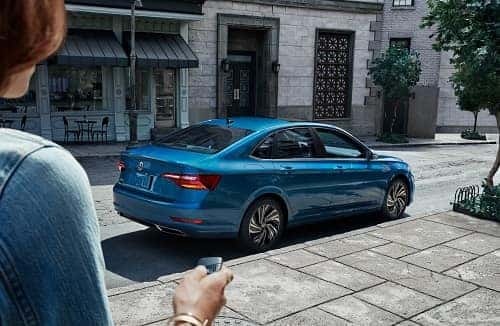 They have lots of active safety features, such as Electronic Stability Control, Traction Control, and Engine Brake Assist. They also both come standard with a Tire Pressure Monitoring System, so you'll know exactly when your tires are low on air.
Furthermore, the VW Jetta comes standard with an Intelligent Crash Response System (ICRS). If you got into an accident, ICRS can turn the fuel pump off, unlock, and activate the hazard lights. It'll help react to a crash if you're not able to.
Unfortunately, the Focus doesn't offer anything like ICRS in any of its trim levels.
Test Drive the 2018 Volkswagen Jetta at Volkswagen Lee's Summit
We hope this comparison has brought you closer to deciding if the 2018 Volkswagen Jetta or the 2018 Ford Focus is right for you!
Drivers in Lee Summit, North Town, Overland Park, Mission, and Olathe can find out more about the 2018 Volkswagen Jetta by visiting Volkswagen Lee's Summit. Stop by today to schedule your test drive!