Volkswagen Dealer near Kansas City, MO
Kansas City is known and loved by its residents and visitors for its jazzy history, barbecue food, museums, historical sites and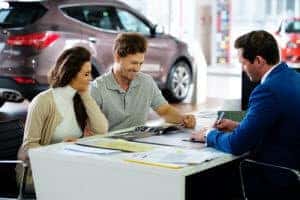 memorials, and of course, the beautiful views of the Kansas and Missouri Rivers. While in Kansas City, make sure to stop by hot spots like Penn Valley Park, Union Station, or the Ewing and Muriel Kauffman Memorial Garden. And to find a reliable vehicle to get you from place to place, check out our Volkswagen dealer at Volkswagen Lee's Summit nearby!
Your Volkswagen Dealership near Kansas City
At our Kansas City Volkswagen dealership, we know that there's a Volkswagen vehicle for everyone. Whether you're looking to take a family road trip in the Volkswagen Atlas, or are looking for an efficient commuter car like the Volkswagen Jetta, we've got the perfect model waiting for you at our showroom. And because we like our car-buying process to be efficient and easy, we've put our entire inventory right here on our website. Browse hundreds of models, and find details like fuel economy, interior features, and more, so you'll be ready for a test drive in your favorite by the time you arrive.
VW Financing
Working with our dealership means you'll find financing your next vehicle to be easier than ever. Our expert finance team will walk you through the steps of the financing process, so that you can be aware of your options, and decide which will work best for your budget. We've built relationships with banks and lenders in the Kansas City area, so that you can rest assured you'll be in the right hands when choosing a loan. And before you sign any paperwork, we'll be sure to explain any financial terms that might seem confusing at first. With several online tools, you can get a head start on financing your next VW vehicle. Our payment calculator will allow you to plug in different numbers and see where you're most comfortable; you can also find your current vehicle's trade-in value, or fill out our finance application right from home!
Auto Service near Kansas City
Our Volkswagen dealership is proud to provide an auto service center that's reliable and convenient, so that keeping up with your VW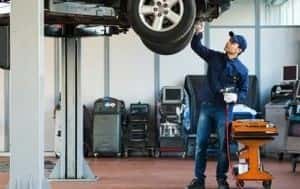 maintenance is super easy. Having a service center right on site, you'll never have to look far to keep your vehicle always running like new. With a staff of highly-trained and experienced auto technicians, we can take on maintenance issues across the board. From routine oil changes and tire rotations, to larger part replacements, we'll get your vehicle back in shape in no time. We also offer VW Service Xpress, where you won't need an appointment for maintenance such as oil and filter changes, exterior bulb replacements, battery diagnostic checks, and more!
Learn More About Your Volkswagen Dealer near Kansas City, MO
If you are in Kansas City or the surrounding areas, stop by Volkswagen Lee's Summit to see what we have in stock for your next Volkswagen vehicle! You can also set up an appointment by contacting us, and we'll have your favorite model ready for a test drive. We look forward to meeting you!
Friendly for just a recall fix - other Make vehicles service places aren't that nice for a recall fix. They even provided husband with ride home while they fixed it. Way to go!
My son was buying a car. They didn't try to sell what you really dont need
Greg took the time to make sure i was 200% satisfied!
Greg was fantastic with no pressure and such a pleasure to work with!!! Customer for life!
Greg Wallace was Perfect! I will continue to only do business with this salesman from here on out. He made me feel comfortable and didn't pressure me, he was honest and blunt I would recommend family and friends (Everyone) to deal with him! 100% the best Hands Down
I had a pleasant and professional experience. Nate Blair is the man!. He didn't stop until he got me everything he could possibly give me. The atmosphere was great as well as the people there. I recommend this place 100 percent. If your looking to buy go here. I'm very pleased with everything they have done. P.S. Don't forget to ask for Nate.
I bought my first car at Volkswagon Lee's Summit and although it was stressful for me personally, the people here were very helpful, patient and supportive. I honestly don't feel like it would have been better anywhere else because I honestly feel like these guys cared about my bottom line and listened to my needs. ISAIAH was truly amazing throughout the entire process and I would refer him to anyone shopping for a new car. 😁 The only thing that I think needs improvement is the communication after the fact. I have called and left messages to talk to ...
Buying a car and service is a breeze. When I got my car, I worked with Isaiah and he found me a car I love very quickly and they got me a great deal. Danny in finance made the process easy and had a great sense of humor. Shout out to Alexia in service! She is so upbeat and so attentive! She made sure I was comfortable and knew exactly what was going on with my car when I had concerns and brought my car in. I will be recommending anyone who is in the market for a car!
Big thank you to Nick M for helping me find my perfect car! He was very understanding of my budget and willing to work with me. Never really bought my own car before alone and he made the process really smooth and easy to understand! Keep up the great work Nick, you did great!!
1st time car buyer, I had alot of trouble with other car dealerships, the dealers were very untrustworthy, I went to Volkswagen Lee Summit, I met Isaiah and Michael and they made my first car buying experience go very smooth, I got low monthly payments and everyone at the dealership was very professional. Even with a poor credit score they were able to find a car that fit me and my budget, Thank you Volkswagen Lee Summit, I'll definitely come back when I trade in.........
Y'all, Clay is the absolute best!!!! My fiancé and I went in today not expecting to leave with exactly what we wanted, and we did. Clay was so kind and helpful from the second we walked into the door. He was extremely knowledgeable and the friendliest car salesman either of us have ever worked with. Buying cars is usually not a fun experience (in my opinion) but my fiancé and I thoroughly enjoyed car shopping today at Lee's Summit Volkswagen. We highly recommend seeing Clay if you are interested in car shopping here. Thank y'all again!!
Thank you to Tristan, Aaron, and Steve for providing outstanding customer service. You all listened to my wants and needs and made it happen! Never once did I feel pressure to purchase and you respected me as a woman making that purchase. True genuine qualities that I found difficult to find at other dealerships. You are all class acts! Thank you for your time, patience and dedication. See you all soon! We have one more car to buy!!
I made a used car purchase. Car end up needing very expensive repairs. Dealt with Matt, he was a manager and he went above and beyond to get me paired with a much more reliable car for my daughter. Isaiah and Angel took care of all the paperwork and were both great to work with. This dealership took a bad situation and made it better because of their commitment to doing the right thing for the customer! Kudos!! It is so easy to only do what you are obligated to do by law buy actually caring about a person and ...
Isaiah was so helpful and attentive. He made sure to get me in exactly what I wanted. The car buying process was a breeze thanks to him and Anthony. I 100% recommend both of them. So happy!!!
Jonathan was professional, straightforward, and a pleasure to do business with.
This is the first time I bought a car from a dealership and I was preparing myself for pushy, stereotype salesmen. Nick was great though! Not pushy at all and there was a lot of non sales conversation that made the whole experience more relaxed. He was honest and showed me my options, kept hyping the car up. I really appreciated him explaining every step of the process and not pressuring me into a car that was not right for me. He was aware of my concern with the numbers which was nice not to keep reminding him. Totally great ...
I bought 13 VWs and Audis from a South Kansas City dealer When I inquired I Was met with indifference and rudeness Lee's Summit VW treated me with respect, listened and never pressured me I got a great deal the respect I've earned with a very high credit score In the 40 years Ive been buying cars the best experience ever As for the other VW dealer you've lost my business.
Nick and Matt were fantastic in our car purchase experience. They kept everything straight to the point without all the hassle. They stayed an hour and a half past closing to assist. Thank you guys so much!!
Josh can get it done for you.. good people thank you josh and everyone at Vw at lee summit
Been a customer here for many years. Josh VanDyke is without question the hardest working sales professional I have ever worked with. I always know he is going to take care of me like family. Our last purchase today was fantastic, easy done and ready for me when we got to the dealership. Thank you Josh and your team again for making this happen.
Tyler Rocks! Great experience with buying a used car from these guys.
Wow! We had an amazing car buying experience! From the moment we arrived, Tim was incredibly helpful and patient with me! Tim and Isaiah answered all our questions and made us feel so comfortable! I love my new car!! 🥰
Abe was super helpful. We showed up without and appointment and he was able to show us multiple options within our price range. We couldn't be happier! We definitely recommend him!
Greg is super awesome, and is the best sales person we have ever had here at VW. Honest and upfront he made this the easiest transaction. Thanks Greg. Plus big big thanks to Matt for treating us the way we should have been with previous vehicle
Our experience over the weekend was phenomenal! Greg Wallace was super professional and showed amazing customer service. We had several appts lined up on Saturday and Volkswagen Lees Summit was our first and last stop. A big thank you to Steve as well for making our car buying process an amazing experience!
Volkswagen Lee's Summit is fantastic! Jonathan helped me find my dream car and I was pleased with the entire experience from start to finish. I didn't really know exactly which car I wanted going in, but Jonathan listened to what I needed and was looking for and took care of us from there. I would recommend Volkswagen Lee's Summit to anyone car shopping and make sure you ask for Jonathan! He's professional, kind, and goes the extra mile to make sure you are taken care of.
Huge Shout out to Aaron peak Jay and the Sales staff at VW.💥 The entire team made my stressful situation a super easy process . Jay was super patient and easy to work with. Not only that they provided my father and I with Exceptional customer service huge thanks to everyone that helped us today ✔️🚘 ❤️
Everyone Always is so friendly.
I would 100% recommend Isaiah to help you for your wants and needs! The whole staff was friendly and helpful! I asked for what I was looking for and they didn't disappoint me and got the vehicle I've been wanting (remind you I had no intention that I would get what I wanted). Great prices on new and used vehicles and they give you more for your trade-in too! Thank you VW Lee's Summit!
I got Used 2021 F150 XLT FX4 Supercrew from here at an unbelievable price! Josh Van Dyke is a phenomenal rep from here. Worked hard to get that 2nd set of keys from the original owner which I felt was important since this is practically a brand new truck! This is our 4th purchase from Josh and if I need another one, I'm going back to see him
HAD A GREAT EXPERIENCE AT VW LS. WENT IN TO LOOK AND ENDED UP WITH ONE THAT WAS USED ON THIER LOT. IT WAS L LATE NIGHT & THEY REALLY WENT OUT OF THIER WAY TO HELP US OUT AND EVERYONE WAS SO FRIENDLY AND NOT PUSHY. GO SEE TRISTAN FOR SALES! ANDRES AND STEVE HELPED WITH THE PROCESS AS WELL AND WERE AWESOME!
Great service from Jonathan! Johnathan was my sales person but I did not see his name in the drop down me u. He provided exceptional service and anyone purchasing a new vehicle from Lee's Summit VW should ask for him.
Thank You so much Lexi for getting my vehicle in and out. Thanks again for your great service from Steve
Nice people and variety of cars
Isaiah was absolutely amazing!!! I dread car buying and he made it a breeze!! The staff was helpful, very kind and knowledgeable. 10/10 recommend Lee's Summit Volkswagen for your next car. Ask for Isaiah, you will NOT be disappointed.
Michael, Michael, Michael... you have to ask for Michael Rivera. He is great at listening to your needs and will be patient and let you drive all the cars to find what fits you. I actually walked out of the dealership because I was offered a bad price on a trade, but Mike worked really hard and salvaged the deal. I walked away with a new car at a great price and it was all because of the work Michael poured in. If I were you, just call and ask for mike and you will be pleased.
Worked with Kile and he was able to do everything I needed and more. Completely took care of me from start to finish and made it as fast and as easy as possible. Highly recommend!
G was awesome!!! He helped me so much and put me in the perfect car right away. He listened to me and answered!! So happy w my vehicle, thank you G 😊
Ask for Kile. He's professional, energetic, and communicates well.
Michael Rivera and his manager Steve were awesome. They did all they could to get me the best deal on a new car. Thanks so much! Highly recommend.
In and out, very efficient. No complaints
Michael Rivera has gave us a very good experience at that dealership. We went everywhere but all we had was bad service. Michael is very professional and knowledgeable with his vehicles. I gave him 5 stars because he is good. We will comeback to buy on the future to see him.
Michael help me a lot . He has a good customer service . I recommender you guys to see him
Great experience with Michael at Volkswagen in Lee's Summit!
Ask for Michael! Had a horrible experience elsewhere and he made sure to turn my day around; got a great deal on my trade-in, was only shown things that met my 'had to haves' in a vehicle, and he made sure it was a quick process for me. He was also able to answer any questions I threw his way. Highly recommend!
Definitely go with Michael Rivera really help us in our goal
We went to the dealership at 1:30pm on a Saturday. It was really busy. We had an idea about what we wanted but weren't 100% sure. Jake took such good care of us! He explained everything, answered all of our questions and didnt miss a beat!! He brought all of the options and put them side by side...and did NOT encourage us to waste money on options that weren't important to us. Negotiating was quick and painless and we drove off in our 2021 Tiguan SE-R Line by 5. I find it hard to think that I will ever go ...
Always a great experience, fast and reliable service. I was just getting an oil change but I know my car will be inspected. This is the best place to get your VW serviced or repaired.
MICHAEL WAS VERY COURTEOUS, HELPFUL AND KNOWLEDGEABLE. THE PROCESS WAS NOT LONG AND I WILL RECOMMEND HIM TO MY FRIENDS AND FAMILY.
Michael Rivera was AWESOME! He got myself AND a friend of mine into TWO BRAND NEW VEHICHLES!! He worked very patiently with us and found the best deal for everyone! I've already began recommending VWLS to my friends! Not only was Michael a great help but Danny in finance was SO NICE! he had a very uplifting spirit and made me feel comfortable among all the anxiety inducing paperwork and numbers. Great team and great business!!
Michael Rivera was the best salesperson I've ever dealt with and this is my second New Volkswagen. He was able to help both me and my roomate drive off the lot in new cars. Definitely a great experience!
We could not be happier with our Atlas purchase at Lee Summit Volkswagen.We worked with Greg and he was great. He answered our questions whether we contacted him via phone, email or in person. Great local service, which is how we try to shop...Locally! We were very impressed with our experience. We will be back for sure.
Michael is the best! Thank you, Micheal and staff! Easy, quick deal left me happy and very pleased. I've never had this kind of treatment at a dealership. Highly recommend.
Micheal was great! He got us 2 vehicles at the perfect price and a great interest rate... very satisfied 🙂
This was the second vehicle that I got there and I had a great experience every time. They went above and beyond To get me what I was looking for and within my limited budget.
James Harris is an Awesome Guy and made sure that I didn't leave without a car. I appreciate his patience and his tenacity of not giving up And making sure he got me in a car with all my concerns. Great Job for making it happen for me:
---