Tire Repair Lee's Summit, MO

Winter Tires vs All Season Tires
When you're cruising through the streets of Lee's Summit, North Town, Overland Park, Mission, and Olathe, your tires are the only things separating you and your vehicle from the hard asphalt. Tires need to be kept in premium condition; not only to optimize your performance, but to also ensure your safety while on the road.
If you want to keep your tires in shape, or need a place to find new tires, the service center at Volkswagen Lee's Summit is happy to assist. With help from our dedicated technicians, all your tire repair needs can be addressed in no time, allowing you to enjoy more time on the road. Learn more about the multitude of services we can offer you, as well as why proper tire repair is so important.
Why Tire Repair?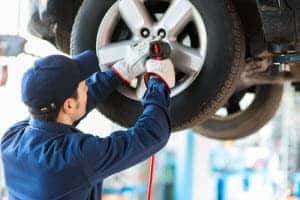 Like everything else in your vehicle, your tires will eventually wear down. Considering the essential role they play, tire repair services are something you cannot afford to go without. If your tires are damaged and you try driving, you could be facing a flat tire, a blowout, or something even worse. Losing control of your vehicle is a recipe for disaster, and without proper tires, maintaining control is nearly impossible.
For optimized performance, you need the proper tires catered to your common use. If you spend most of your time driving through well-maintained roads, all-season tires should do the job just fine all-year-round; off-roading tires might be your best bet if you plan to venture off the beaten path quite a bit. But, whatever your choice is, make sure you're getting the right tires for your vehicle. Otherwise, you'll never be able to experience all the handling, fuel economy, and performance you could otherwise.
Volkswagen Service Center Lee's Summit, MO
For all your tire repair needs, the Volkswagen service center at Volkswagen Lee's Summit has got you covered. Our expert technicians have extensive experience working with all kinds of vehicles and tires, and can perform any tire repair services you'll ever need. They embody the same dedication to customer service as you'd expect from our sales staff, so you'll always get the quick and quality service you deserve.
Sometimes, your tires are damaged too much and can't be repaired. If that's the case for you, don't worry. We have a wide selection of new tires for a variety of vehicles and purposes. You can even view our selection online. Be sure to check out our website to learn more about where you can find our tire repair services. Visit us or call (816) 841-7253 to schedule your service appointment today!