5 Tips to Start Saving for a New Car
Think about it: Wouldn't you rather arrive at your next fancy event near Lee's Summit, North Town, and Overland Park inside a shiny, new ride that's dressed to impress?
Well, there are actually a few simple ways that you can start stockpiling some cash to help you save up for the vehicle that'll turn heads on every road near Mission and Olathe.
To learn more about ways you can put away some money that'll go toward your fresh ride fund, check out these 5 Tips to Start Saving for a New Car, created by Volkswagen Lee's Summit. Thanks to these tricks, you'll be well on your way to breathing in that unmistakable new-car smell.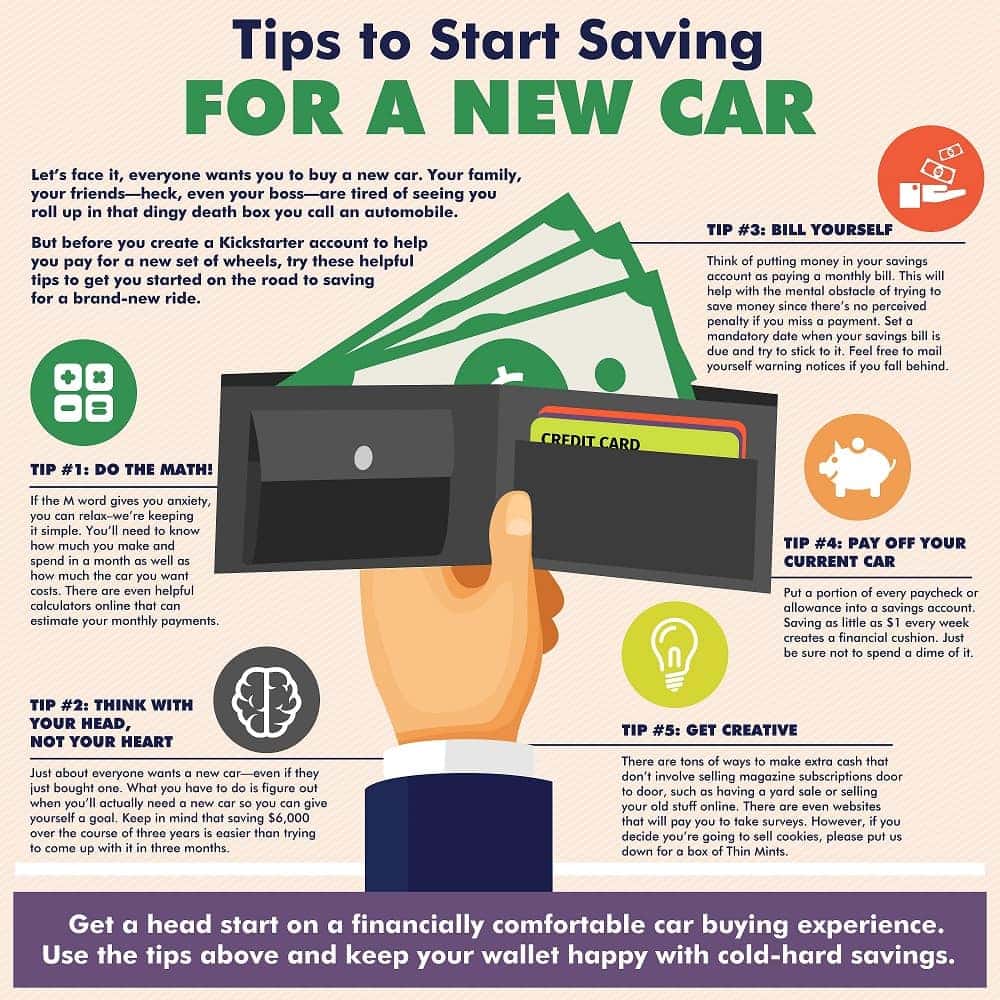 Tip #1: Do the Math!
Despite what you may think, determining the amount of money you need to save for a big-ticket item, like a vehicle, is pretty simple. All you have to do is calculate the cash you spend versus how much income you receive each month.
After eliminating extraneous expenses and directing that money to your new car fund, you'll gradually build up the savings needed to purchase your favorite model.
Once you've managed to work out the amount of money you should be saving per month based on the price of your automobile, simply wait until you have the cash for a down payment or loan!
Tip #2: Think with Your Head, Not with Your Heart
When it comes to saving money, it's important to keep your goals long-term. By doing so, you'll be able to slowly build up a strong savings account, without taking too much money out of your wallet each month.
That way, you'll still be able to have dinner at your favorite restaurant or make a few "just for fun" purchases while still saving cash.
Plus, logic can go a long way in deciding which new car is right for you. With a little brainstorming on your daily habits and responsibilities, you'll be able to distinguish the right body style and trim level that meets your needs.
Tip #3: Bill Yourself
There's nothing like a little pressure to help you stick to your goals. Fortunately, when saving money, you can put some extra pressure on yourself by thinking of the money you're putting away like a bill.
If you want to get really creative, you're welcome to send yourself a few notices in the mail once it's time for you to drop some dough into your savings account.
Tip #4: Pay Off Your Current Car
Before you get ready to purchase a brand-new ride, you'll want to finish up your payments on your current vehicle. Again, this is as easy as putting away a small amount of money each month.
What do we mean when we say small? Well, even $1 a month can build up your savings account over time, so that you can pay off your present automobile and get started on saving for your spiffy, new car.
Tip #5: Get Creative
You know that pair of boots that have been gathering dust in your closet? The ones you never wore? Well, it's time to break those bad boys out and put them up for sale.
While you're at it, search through your house for anything you don't use. If you have enough, you might even be able to start a yard sale.
All in all, that stuff that's currently cluttering your house can help you score a little extra cash to slip into that savings piggy bank. As long as the items you own are in good condition, there's likely someone who will be interested in buying it off you.
Financing Your New Car Today!
At Volkswagen Lee's Summit, we want to assist drivers near Lee's Summit, North Town, and Overland Park in choosing the right payment option for your new vehicle.
So, if you're looking to revamp your daily commutes along the roads of Mission and Olathe with a stylish automobile, ask our financing experts for advice.
Thanks to their expertise, you'll secure the financing or leasing options that are best for your bank account. Simply give us a call, stop by our showroom, or apply for pre-approval today!