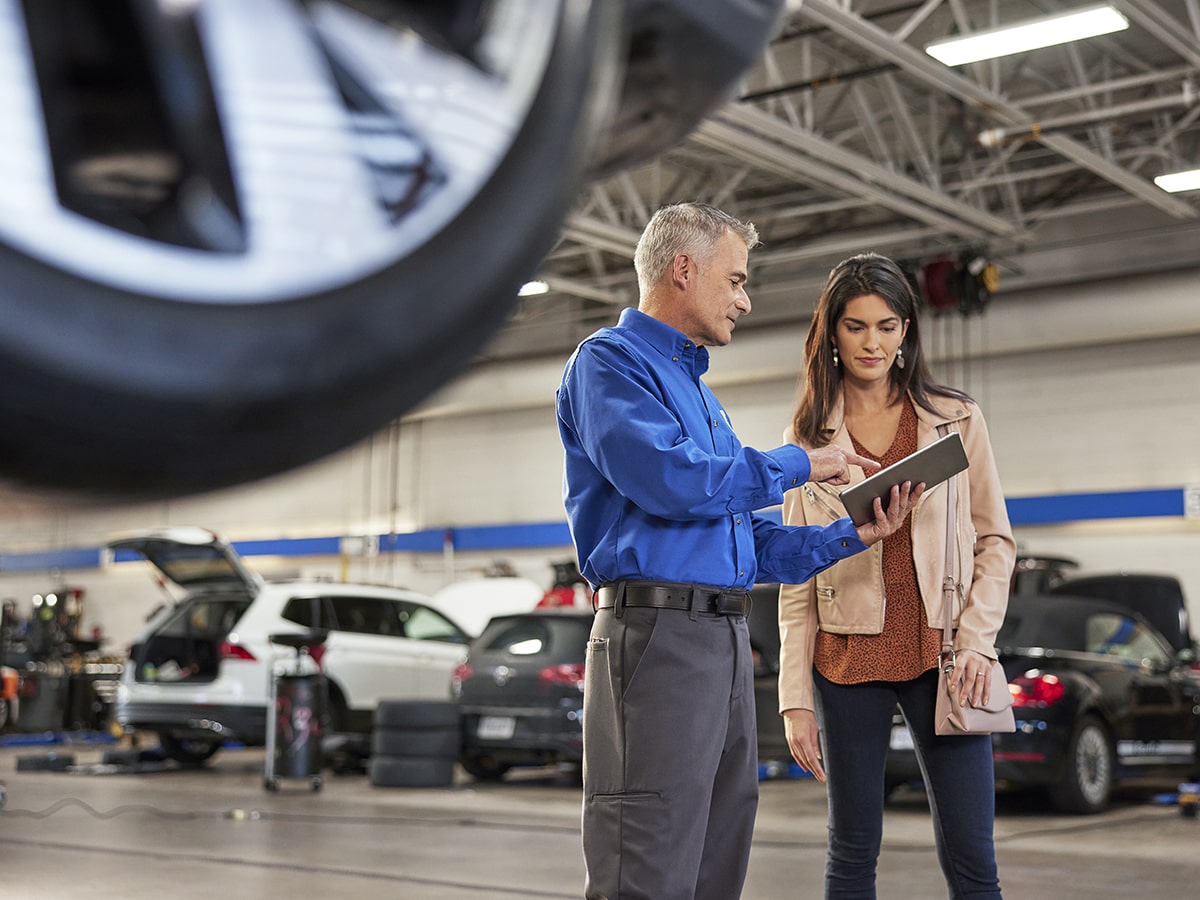 Dare to Compare: Independent Service Shop vs. Certified Service at Volkswagen Lee's Summit
When you need automotive maintenance and repairs in the Lee's Summit, Missouri area, we have you covered. We are the local experts in Volkswagen car care, as we understand the parts and tolerances your vehicle must be within to perform reliably and safely. We can quickly diagnose any underlying issues, and fix them properly with parts from the manufacturer. Rather than guessing what the issue may be, or estimating placement or parameters for various parts, we know what is needed and where it goes. When you need repairs, be sure to protect your investment by bringing your Volkswagen to our certified service department at Volkswagen Lee's Summit.
Certified VW Service from the Experts
Our technicians are Volkswagen-trained and certified to perform maintenance on your particular vehicle. We know your model from front to back because we see the same cars and SUVs daily. We have the latest tools and technology and follow VW protocols to ensure the job is done the right way the first time. We use genuine OEM parts from the manufacturer, designed specifically for your model's measurements to ensure optimal performance. We also can provide information on any recalls pertinent to your model. We provide parts backed by a warranty and high-quality labor and can keep track of any routine preventative maintenance needed for you.
Is an Independent Mechanic Cheaper?
The up-front costs of an independent mechanic may seem cheaper, but in the long run, a certified service department is a more economical option. The cheaper cost at an independent shop is likely because they will use after-market parts and may not have the expertise necessary to properly repair your Volkswagen. With sub-par parts and labor, you will likely need additional maintenance shortly. With our certified service department, we can properly repair your vehicle from the start, so you won't have to make another appointment sooner than necessary. If you plan on selling your VW in the future, we can also provide a record of any maintenance and repairs performed on your vehicle, which is done according to manufacturer protocols and factory specifications. With genuine OEM parts straight from the manufacturer, you can rest assured that the parts will fit properly, and will work at peak performance.
Working with Insurance Companies
When you have a car accident and need to file a claim with your insurance, we can save you the hassle and headache, because we are a certified service department. All major insurance companies will use a list of certified auto shops approved to repair your vehicle. As a certified shop on that list, we will work with your insurance company directly to assess what repairs are necessary. On the other hand, if you were to use an unapproved mechanic in Lee's Summit, the insurance company would send you a check for the repairs, but you would be left to deal with the rest of the details and problems that may arise. We can take care of the hard part for you while also making sure the repairs are done correctly.