YEAR END SALE! Switch & Save *your* way at VW Lee's Summit. Choose a $0 down Sign Then Drive lease, or switch to a 3.9% for 72 mos loan, or save by getting $1000 more for your trade! View Now

Volkswagen Battery Services in Lee's Summit, MO
Did you know that tens of thousands of vehicles are stranded each year because of a dead battery? Don't let that happen to you. At Volkswagen Lee's Summit, we provide affordable battery service for drivers in the Lee's Summit, Blue Springs, Independence, Kansas City, and Grandview, MO. We have a top selection of Volkswagen OEM batteries and top battery replacement services. So let us keep your Volkswagen going strong with our certified battery service.
The Importance of Your Vehicle's Battery
Your vehicle's car battery is responsible for proving a charge for your vehicle's starter. Over time, your vehicle's battery will lose its charge and will need to be replaced. On average, a vehicle's car battery will last anywhere from four to six years. Signs of an old battery include dim lights inside the vehicle, a clicking sound during start-up, and corrosion on the battery or the battery connectors. If you notice any of these signs of an old or worn battery, then visit our service center for fast and affordable OEM Volkswagen battery replacement service.
Our Volkswagen Battery Services
We have Volkswagen-trained technicians ready to provide your vehicle with fast and affordable battery replacement service at our service center.
Battery Replacement – If it's time to replace your vehicle's battery, then you can rely on us to get it done quickly and at an affordable price.
Learn More
Battery Testing – If it has been more than four years since your vehicle's last battery replacement, then visit our service center to get it tested.
Learn More
Battery Inspection – We provide professional car battery inspections to see if a vehicle's battery can provide the proper charge to a vehicle's electrics.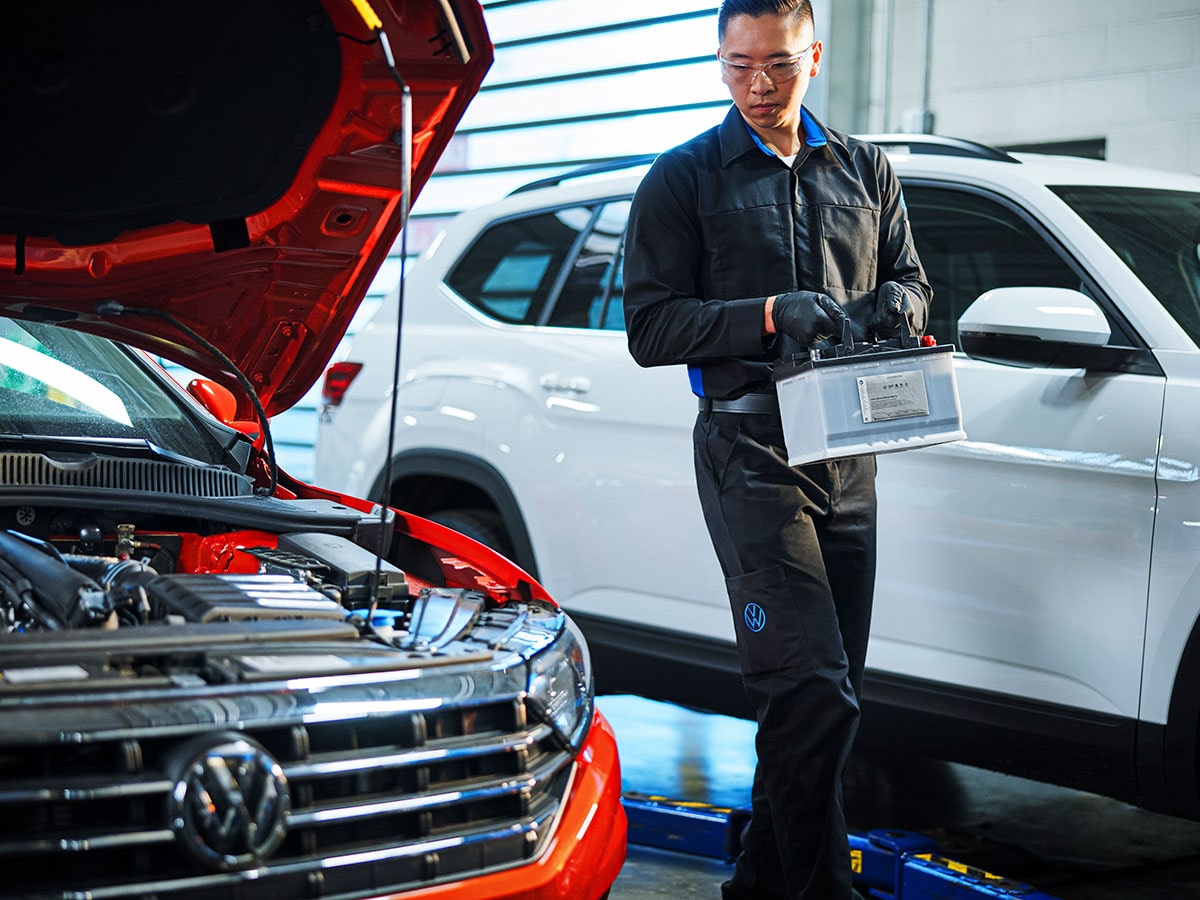 OEM Volkswagen Batteries for Sale
Your vehicle's battery is meant to last from four to six years. With an OEM Volkswagen battery, you can be sure that you will get the most performances possible from a car battery. OEM Volkswagen batteries are designed to work perfectly with your Volkswagen. Not only that, all Volkswagen OEM parts come with a lifetime guarantee. When you choose an OEM Volkswagen battery, you are giving your vehicle top performance that gives you the ultimate peace of mind.
Our Volkswagen Service Center Difference
At our service center, Volkswagen-trained technicians are ready to work on your vehicle. We also have state-of-the-art service bays and equipment that allow us to get your vehicle's work done promptly. Finally, we are open six days a week to provide you with top Volkswagen service when you need it.
Volkswagen Battery Services Near Lee's Summit
Get top battery replacement service at Volkswagen Lee's Summit. You can schedule your appointment online or you can give us a call. You can also visit our service center with no appointment needed. Our Volkswagen team is always ready to assist you.
Search
Find Your Vehicle
Search By Keyword
Search By Filters
Saved
Saved Vehicles
SAVED VEHICLES
You don't have any saved vehicles!
Look for this link on your favorites:
Once you've saved some vehicles, you can view them here at any time.
Share
Share This
Choose How To Share: