Oil Change near Me
The engine is the heart of your vehicle. Without it, you wouldn't be equipped with power to move you over the roads of Lee's Summit, North Town, and Overland Park. To ensure that your car's motor stays healthy for years to come, the team at Volkswagen Lee's Summit is ready to provide you with your next oil change near me.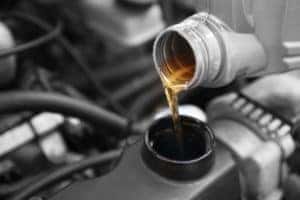 By seeking out regular maintenance for your automobile, you'll continue to soar along the highways of Mission and Olathe with the performance and capability of a well-trained champion. When you're ready to schedule your next appointment, feel free to visit our service center for an oil change!
Learn the difference between Synthetic vs Conventional Oil
Our Team of Oil Change Professionals
When it's time for your vehicle to get an oil replacement, you want to be sure that you're visiting a service facility that's filled with a squad of trustworthy mechanics. Luckily, our skilled technicians have years of experience in performing all types of maintenance, repairs, replacements, and everything in between.
And if you're in need of a service as basic as an oil change, you can feel confident that our staff knows exactly how to handle it. With our expertise, you'll be fixed up with your oil change service near me in no time. That way, you won't be held back from your busy lifestyle and important events.
On top of that, our mechanics treat every customer with respect and compassion. We take the time to ask you a bit about any other issues you've had with your automobile so that we can address those during your appointment, as well.
Benefits of Routine Oil Changes
Performance: If you revel in the way that your vehicle smoothly accelerates, you might be surprised to find out that your engine oil plays a significant role in your car's seamless performance. That's because motor oil allows all the intricate parts of the engine to stay lubricated and work together. By forgetting to schedule regular oil changes, you could risk damaging the automobile due to excess friction or debris buildup.
Efficiency: Believe it or not, basic maintenance goes a long way in improving your car's efficiency and helping you avoid filling up on gas too often. And when you properly care for your vehicle, its engine will function at its best and continue to sip on fuel rather than guzzling it down.
Longevity: Want to keep your automobile by your side for a lifetime? All you have to do is make sure to meet your car's recommended maintenance guidelines, which includes routine oil changes. That way, you'll sidestep any major damage to the motor and other vital organs inside your automobile.
5 Signs Your Oil Needs Changing
Schedule Your Oil Change Today!
At Volkswagen Lee's Summit, we're committed to preserving the health and vitality of your car so that you can tackle the streets of Lee's Summit, North Town, and Overland Park like an expert.
So, if you can't remember the last time you scheduled an oil change near me for your vehicle, schedule your service now or stop by our repair facility today!
We're proud to serve drivers of Mission, Olathe Lee's Summit, and beyond with exceptional attention-to-detail and unwavering customer service.