Brake Repair Lee's Summit, MO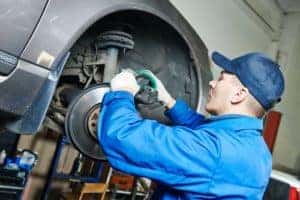 What's the most important safety feature in your vehicle? Common answers would be airbags or even advanced crash mitigation systems. However, the most useful feature any vehicle has is brakes. Brakes not only keep you safe, but they keep you in control. Even when you're not trying to avoid a collision, you still need them if you want to get the most out of your vehicle's performance.
That's why it's so important to keep your brakes in top shape. Like all parts of a vehicle, your brakes will wear down over time. That's why you need to find a place where you can get all the brake repair services you need. For quality service you can count on in the Lee's Summit, North Town, Overland Park, Mission, and Olathe areas, the Volkswagen service center at Volkswagen Lee's Summit is happy to help.
Brakes Basics
Put simply, your brakes are what help you slow down your vehicle. How they work is pretty simple: When you press the brake pedal, your braking system will press on your wheels to create friction and slow. This friction creates heat, which is then absorbed and dissipated by the rotors.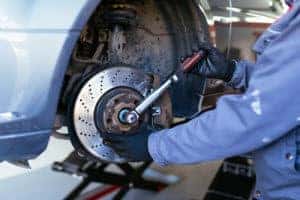 Without all the systems working together, your brake system won't perform as it should. You need properly maintained brake pads, brake fluid, and brake rotors if you want the best performance possible. Most modern vehicles also come with an anti-lock braking system, which greatly improves your performance; but it's also one more thing to go wrong.
Common Brake Problems
For most of your brake repair needs, the problem will likely be with your brake pads. The brake pad is the component that wears down the fastest. Fortunately, most are designed to notify you when they need changing. When you hear your brakes squeaking, for example; that's the most likely culprit. They begin to squeak when they're about three-quarters of the way worn, so you still have time to get them serviced.
Brake Repair at Volkswagen Lee's Summit
Whether you need new brake pads or another kind of brake repair, the service center at Volkswagen Lee's Summit is your best bet. Our highly-trained professionals know brake systems inside and out, so come by with all your brake repair needs—whether you have a Volkswagen or not. With our dedication to customer satisfaction, you can always expect quick and quality service. Visit us or contact us to schedule your service appointment today!