Best Chocolate Shops near Lee's Summit, MO
What would this world be like without chocolate? If you didn't have your weekly dose of rich, decadent delicacies, how could you possibly survive a stressful week? Well, luckily, you're free to stuff your belly with all the chocolate confections, candies, and desserts to support your lifelong addiction.
Thanks to our guide to the Best Chocolate Shops near Lee's Summit, MO, you'll know exactly where to take your friends for a quick indulgence in the cocoa creations you need to feel your best. So, grab your favorite bar of dark chocolate and curl up while we direct you to these confectionary havens near you!
A Thyme for Everything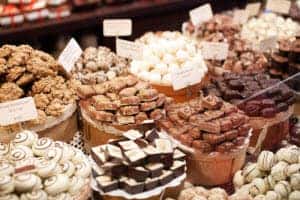 Amongst the cooking classes and gourmet gifts at A Thyme for Everything, you'll stumble upon an assortment of artisan candies that would make any chocoholic swoon.
This local destination supplies you with some of the country's most celebrated chocolates from the likes of Christopher Elbow, Sweet Shop USA, and other popular.
And if you love to pair your chocolate to team up with confection powerhouses like Caramel, Espresso, or Coconut, look no further than the Truffle selection designed by Sweet Shop USA.
Inside the clear, glass container of this shop, you'll soak up the craving-inducing sights of things like the Double Chocolate Truffle, the Milk Chocolate Sea Salt Caramel Truffle, and so much more.
Check out their Facebook for pictures of the finely crafted chocolates in their shop!
André's Confiserie Suisse
If you're looking to transport yourself to a fairytale land filled with all the confectionary delights of your dreams, drop what you're doing and head to André's Confiserie Suisse.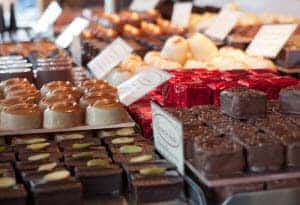 No matter what form you prefer to deliver your chocolate to your stomach—from rich Hot Chocolates to classy Chocolate Tortes, and everything in between, you'll dive into a perfectly designed pastry that's just waiting for you to take the first bite.
For something truly magical, try out their famous Fleur de Sel Caramels, which come in a dainty disc and are adorned with just a touch of flavor-enhancing sea salt. And if you want to sample something authentically Swiss, order a slice of the Engadiner Nut Torte.
This melt-in-your-mouth cake slathers Roasted Pecans and Caramel in between the layers of dough and enrobes it all in Milk or Dark Chocolate. Talk about a chocolate choice that won't disappoint.
Visit their Facebook profile to see some of their upcoming events!
Panache Chocolatier & Café
At Panache Chocolatier & Café, your most longed for sweets get the royal treatment with chic displays and an opulent shop that may make you think you've stepped into a high fashion boutique.
Plus, you're welcome to pair their huge array of truffles, chocolates, and more with a gourmet coffee that could impress any Italian coffee connoisseur. Or skip the coffee and sip on their Panache Frozen Double Dark Cocoa, which cools down their classic European Hot Chocolate with ice and Whipped Cream.
However, if you're making a beeline straight for the purest version of chocolate you can find, sink your teeth into their Dark Chocolate Champagne Rose Truffle that's topped with Dried Rose Petals for a floral finish.
To up the ante on your cocoa cravings, stop by their Facebook page to see what other customers thought of their desserts!