2018 Volkswagen Beetle vs 2018 MINI Cooper
Thanks to their unique, iconic appearances and sporty, efficient engines, the VW Beetle and MINI Cooper are often compared to one another. While both vehicles are similar, there are also a few things that set them apart, and make each model so appealing to drivers around Lee's Summit or North Town.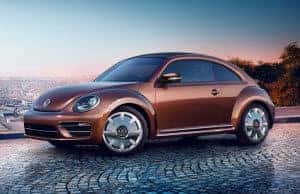 This 2018 Volkswagen Beetle vs. 2018 MINI Cooper comparison is your guide to understanding the differences between these two renowned cars. And, if anyone near Overland Park, Mission, or Olathe has any added questions, just contact our team at Volkswagen Lee's Summit for more information.
2018 Volkswagen Beetle vs 2018 MINI Cooper: Engine Specs
Quick acceleration and adept handling can be found in both the 2018 Volkswagen Beetle and 2018 MINI Cooper. However, when comparing base trim levels, the Volkswagen Beetle has slightly more pop.
This is largely due to the motor, as the Volkswagen Beetle sports a turbocharged, 2.0L TSI® engine that produces 174 horsepower and 184 lb-ft of torque. This power goes a long way in such a small vehicle, but you won't have to worry about sacrificing handling.
With a 6-speed automatic transmission with Tiptronic®, you'll be able to enjoy a smooth ride. And, if you want, you can adjust your transmission to Sport mode for extra control.
Conversely, the MINI Cooper sports a 1.5L 3-cylinder engine that generates 134 horsepower and 162 lb-ft of torque. This energetic motor is accompanied by a standard 6-speed manual transmission or, if you prefer, an optional 6-speed automatic transmission.
Whether you're cruising through Lee's Summit, Olathe, or Overland Park, your rides are guaranteed to be fun in the 2018 VW Beetle, and our team at Volkswagen Lee's Summit is here to tell you all that the 2018 model has to offer in this review!
Interior & Exterior Stylings
Style is a foundational feature for the Volkswagen Beetle and MINI Cooper, so it's no surprise that each car has a range of attractive options.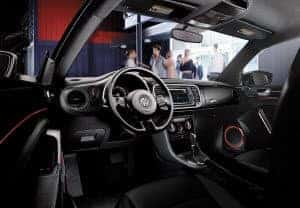 For example, the Volkswagen Beetle has available Bi-Xenon headlights with LED Daytime Running Lights. Not only do these lights exude a distinct brightness, but they also boast a longer life and use less energy. Another attractive, modern aspect of the VW Beetle is the sport-style bumpers found in both the front and rear. This adds a level of athleticism to the model, as does the rear spoiler.
As for the interior, retro-modern gauges pair style with the iconic heritage of the Volkswagen Beetle. Also, the leather-wrapped, flat-bottomed steering wheel will help you navigate the roads, while also giving you the ability to control your music, and much more.
Conversely, the MINI Cooper offers a wide variety of appealing exterior color options. The athleticism of this model can't be overlooked, either.
But when studying the interior, a similar trend to the exterior begins to take shape. While the MINI Cooper has a refined cabin, many of the appealing features are lumped into a package rather than being offered in the base trim level.
2018 VW Beetle vs 2018 MINI Cooper: Media & Technology
Both of these exciting models offer a host of technology features that helps make driving easier and more enjoyable.
The Volkswagen Beetle has a handy App-Connect system. This allows you to plug in your compatible smartphone. After doing this, you can access any of your favorite apps, music, or even navigation, right on the touchscreen display located on the dash.
If you prefer the radio over music, you'll be happy to know that a 3-month trial subscription to SiriusXM® Satellite Radio is an available feature of the Volkswagen Beetle.
MINI Cooper has a useful MINI Connected touchscreen on the dashboard that also allows you to access navigation and music at the touch of your finger. However, while this feature is beneficial, it isn't as comprehensive or user-friendly as the Volkswagen Beetle App-Connect system.
2018 VW Beetle vs 2018 MINI Cooper: Conclusion
The renowned appeal of both models is clear when reading this 2018 Volkswagen Beetle vs. 2018 MINI Cooper comparison. However, given the added performance and user-friendly technology of the Volkswagen Beetle, it stands out as a tremendous option for drivers around Lee Summit, North Town, and Overland Park.
And, if you happen to find yourself near these communities, or the towns of Mission and Olathe, you can easily test drive the 2018 Volkswagen Beetle. Simply contact Volkswagen Lee's Summit, and we can get you behind the wheel today!