VW Atlas vs Jeep Cherokee
If you've been looking for a new ride that's both athletic and family-friendly, two of your best options are the 2018 Volkswagen Atlas and the 2018 Jeep Cherokee. Each of these models offers high-end performance and attractive style, but when you look at the two side by side, you begin to notice some differences.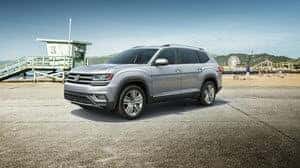 This 2018 Atlas vs. 2018 Cherokee comparison is designed to highlight those differences, so folks around Lee Summit, Mission, and Olathe know exactly what they're getting with each option. If you have any other questions, or if you find yourself near Overland Park or North town and want to schedule a test drive, just contact Volkswagen Lee's Summit for more information.
Atlas vs Cherokee: Engine Specs
When trying to select the right compact SUV for you and your family, handling goes a long way, and so does power. Thankfully, the VW Atlas and the Jeep Cherokee have standard engines that have an abundance of both.
The Volkswagen Atlas sports a 2.0L turbo engine that produces 235 horsepower. This strong, capable motor is accompanied by an 8-speed automatic transmission with Tiptronic®. This feature allows you to change from an automatic transmission to a manual, if you prefer.
Also, with the 4MOTION® system with active control, you can select from a range of all-wheel drive modes to better handle the elements. These modes are Dry, Rainy, Snowy, and Rough.
The standard engine in the 2018 Cherokee is a 2.4L 4-cylinder that produces just 184 horsepower. This motor is accompanied by a versatile 9-speed automatic transmission. Without the Tiptronic® feature, however, you can't switch between automatic and manual.
Atlas vs Cherokee: Interior Dimensions  
Whether you're looking to fit a camping trip's worth of cargo, or three separate car seats for the kids, the VW Atlas and Jeep Cherokee have enough room for any adventure.
The Atlas has an extremely versatile cabin that makes for a ton of room. First, you can fit up to seven people. Also, the overall passenger volume tops out at 153.7 cubic feet.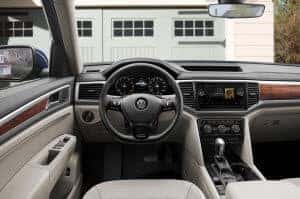 This space can easily be converted into cargo room, too. Simply put down the second and third row seats, and you'll find yourself with 96.8 cubic feet of cargo space.
When looking at the cabin of the Cherokee, things start to get a bit more crowded. With the maximum seating capacity at five passengers, and the cargo capacity topping out at 54.9 cubic feet, the Cherokee simply doesn't offer the same amount of flexibility as the Atlas.
Atlas vs Cherokee: Interior & Exterior Design
The Volkswagen Atlas and Jeep Cherokee are stylish, well-trimmed models that offer both interior and exterior refinement.
The Atlas, for example, has that powerful, muscular frame that's complemented by creased lines for added effect. Also, those 20-inch alloy wheels are another bold addition.
And, if you're looking for exterior customization options, the R-Line Appearance Package is a good place to start. Or, you can opt for the 20-inch Black Mejorada Wheel Package.
The interior of the VW Atlas has one feature that helps it stand out: a power-tilt, panoramic sunroof. What makes this sunroof so special is that it stretches back to the beginning of the third row, offering an unprecedented amount of light. If you're interested in turning your VW Atlas into a convertible, simply press a button, and you can pop that sunroof open.
The 2018 Jeep Cherokee also has a list of appealing exterior options, namely focusing on the wheels. You can choose anything from 18-inch Polished Aluminum to 18-inch Gloss Black 5-Spoke Aluminum to 17-inch Black Painted Aluminum.
The interior is rugged, thanks to the addition of premium leather-trimmed bucket seats. However, the interior is lacking a feature as attractive, or versatile, as the panoramic sunroof found in the VW Atlas.
2018 VW Atlas vs 2018 Jeep Cherokee: Conclusion
When reading through this 2018 VW Atlas vs. 2018 Jeep Cherokee comparison, you'll find that both models have some attractive features for drivers around Lee Summit and North Town, but the Atlas stands out thanks to superior cabin space and performance.
If you're around Overland Park, Mission, or Olathe, and would like to test drive the 2018 Volkswagen Atlas, just contact our friendly team at Volkswagen Lee's Summit, and we can help you get behind the wheel today!