The 2018 Volkswagen Passat vs 2018 Honda Accord
When it's time to find the right sedan to head out on the roads through the Lee's Summit, North Town, and Overland Park areas, there are plenty of options to choose from. But when you're torn between the 2018 Volkswagen Passat vs. 2018 Honda Accord, you've got some tough choices to make. At Volkswagen Lee's Summit, we're happy to help drivers in Mission and Olathe learn more about these vehicles and how they differ so they can decide for themselves.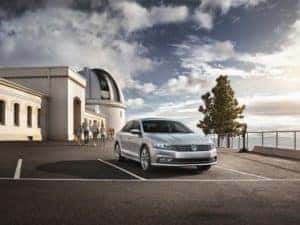 Check out our 2018 VW Passat vs. Honda Accord comparison to learn how these vehicles measure up to each other and which one would be the better pick for you.
2018 VW Passat vs Accord Performance & Power
The VW Passat is outfitted with a 2.0L TSI 4-cylinder turbocharged and intercooled engine that comes mated with a 6-speed automatic transmission with sport mode. The Honda Accord features a 1.5L 4-cylinder turbo engine that's paired with a Continuously Variable Transmission.
While both these engines have the ability to surpass 170 horsepower, the VW Passat has a huge advantage with not only the sport mode option with its transmission, but the intercooler that helps keep the engine temperature at the right level is pretty significant for drivers who love to push their vehicles further, too.
Passat vs Accord Cabin Comforts
The Volkswagen Passat and Honda Accord both feature spacious cabins that can fit five passengers. The VW Passat actually offers more front legroom at 42.4 inches and more rear headroom at 37.8 inches compared to the Honda Accord, which features 42.3 inches of front legroom and 37.3 inches of rear headroom.
While the differences in space aren't huge, the VW Passat does have an important advantage with its 8-way power adjustable driver's seat with adjustable lumbar support. The Honda Accord, on the other hand, only offers a manual adjuster with its driver's seat.
Audio Entertainment & Technology Features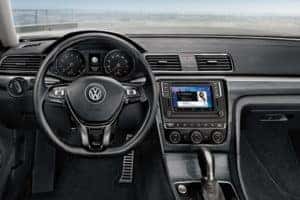 Both the VW Passat and Honda Accord come outfitted with respective touchscreen displays that are mounted into the dashboard and utilized to make media selections. The Passat features a 6-speaker sound system while the Honda Accord only comes with four speakers.
Each vehicle comes with an AM/FM radio, a CD/MP3 player, USB ports, auxiliary inputs, and Bluetooth® streaming and hands-free phone capabilities. However, the Volkswagen Passat includes the SD memory card reader, which lets you bring your library of audio entertainment along on your trip through SD cards.
Deciding Between the 2018 VW Passat vs 2018 Honda Accord
Now that you know the differences between the Passat vs. Accord, you're closer to making your decision. At Volkswagen Lee's Summit, we hope that you found our 2018 Volkswagen Passat vs. 2018 Honda Accord comparison insightful in showing you what these vehicles offer. You're now aware of the key advantages that the VW Passat has, but you can benefit by learning more through a closer look, or an informative test drive.
Schedule your test drive with us at Volkswagen Lee's Summit. We're happy to help drivers from Lee's Summit, North Town, and Overland Park find their next car that's going to help get them around Mission and Olathe in style.