Volkswagen Dealership Near Belton, MO

If you're ready to go on another exciting adventure with your family, look no further than the peaceful streets, quaint architecture, and fascinating locales near Belton, MO.
And at Volkswagen Lee's Summit, your local Volkswagen dealership near Belton, MO, we're committed to suiting you up with a dynamic vehicle that'll make easy work of your next journey.
To honor our dedication to unparalleled customer satisfaction, we've adorned our showroom with a wide variety of Volkswagen sedans, SUVs, and much more. So regardless of which type of automobile is best for your family, you'll quickly find the option that'll help you command your path.
Volkswagen Models Near Belton, MO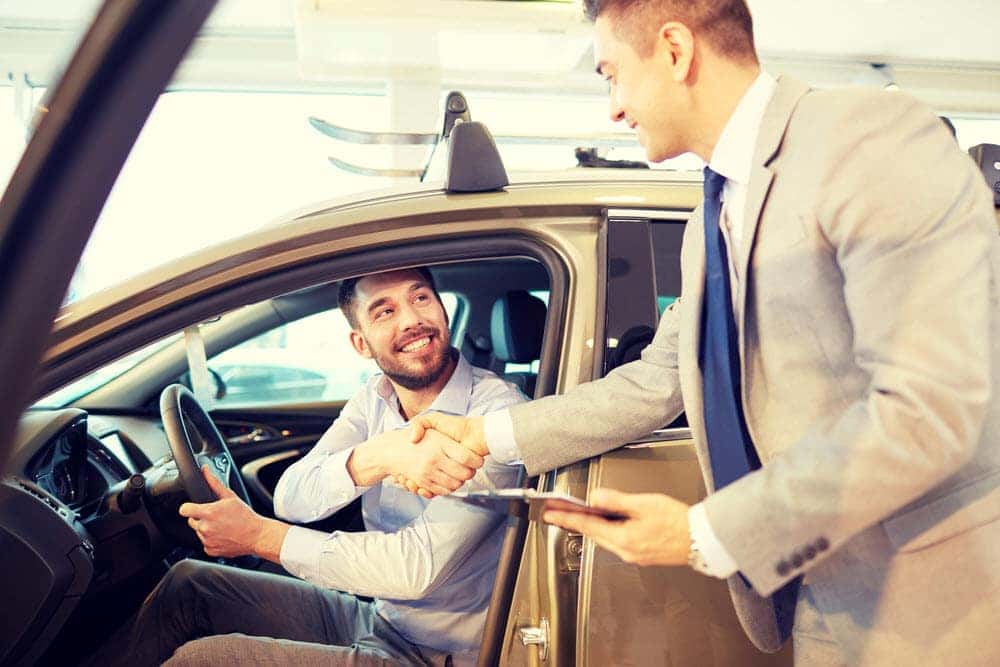 A relaxing, weekend getaway can only be had with the compelling performance and innovative features of a reliable car. Luckily, that's exactly what you'll find once you walk through the doors of our Belton, MO Volkswagen dealership.
From the stylish Volkswagen Passat, to the impressive Volkswagen Tiguan or any of our other Volkswagen models, you and your family are free to explore the confines of the vehicle that interests you most. That way, you can easily identify which automobile contains the technologies you need for your upcoming trip.
In addition, our knowledgeable sales associates are always happy to provide you with more information about the standard and optional amenities found inside your favorite vehicle.
With their assistance, you'll design a fully-customized cabin that's adorned with the gadgets you've always wanted—such as a navigation display, active safety system, and much more.
Volkswagen Financing
After you've decided upon the ride that perfectly aligns with your lifestyle, it's time to get a jump start on the purchasing procedures.
Within our Volkswagen financing department, our team of experts will guide you along the steps of your buying or leasing process so that you leave us feeling confident in your decision.
For example, we begin by delving into the details of your budgetary requirements and preferences. By doing so, we'll ensure that all your needs are addressed before we craft your personalized payment plan.
From there, all you have to do is sign on the dotted line and snag a seat behind the wheel of your new, used, or certified pre-owned Volkswagen.
On top of our devoted specialists, we've created a collection of handy tools that give you some further insight into your financing and leasing opportunities, such as our Financing Application.
Here, you'll fill out the fields with your information and submit it through our secure portal. Then, our professionals will review your application and contact you to discuss your options in greater detail.
Volkswagen Service & Support
Given how much you travel, there's nothing more assuring than being supported by a team of skilled automotive mechanics. That's why we've outfitted our cutting-edge Volkswagen service facility with a squad of well-rounded technicians who offer years of experience in repairing and maintaining Volkswagen cars.
No matter if you're looking for a straightforward checkup, an emergency replacement, or any other kind of service, we'll work hard to get the job done right. If you can't remember the last time your vehicle saw the inside of a repair center, visit our Service Scheduler to reserve your next appointment online.
Visit Our Volkswagen Dealer Near Belton, MO
At Volkswagen Lee's Summit, we know what it takes to help you locate a well-equipped automobile that'll dominate every mile of your trip near Belton, MO.
Whether you're planning to ride a locomotive along the Belton, Grandview, and Kansas City Railroad or take your children to Memorial Park, our Volkswagen vehicles won't hesitate to tackle your route. Ready to start your next trek? If so, feel free to stop by our showroom or schedule your test drive today!
MerchantCircle
Apr 19, 2019
Our experience with Cory and Matt was great - quick, easy, no haggle, and got a great deal!
We were stuck in a lemon car before coming here. Initially only came for repairs, then decided to take a shot to try and trade my car in. Chris-Topher greeted us. He was very enthusiastic and outgoing and immediately we made a connection. I have purchased many vehicles from different dealers, but never in my life has anyone taken the time and care to make sure we were getting the best deal. Topher made everything perfect and easy for us. He continued to go to bat for us when we were in a difficult spot and we actually ended up with a brand new car. This was such a huge relief as we have children and can't afford monthly repairs or sacrificing safety/reliability. I will never shop anywhere else. If Topher decides to move to another dealer, I will go there.Andy
The wait was long but the service was great. They even did a video of my service. Definitely recommend
I had a wonderful time test driving cars with Kaila who had the patience to listen to my ever changing wants and needs through the whole car-buying process. Even though they didn't have the specific car I was looking for on the lot, and they do have a large number for the model I was interested in, they found it in another state and had it transported up for me. It was my first time looking for a new car so I really appreciated how willing Kaila was to answer questions and how quickly and efficient all of the financing paperwork was completed. The use of electronic documents and signatures saved me a hand cramp and is easier to store at home. I would definitely recommend going here first if you're looking into getting a VW!
Kaila was absolutely fabulous. She got us exactly the car we wanted at the price we wanted.
Christopher Craig was amazing at getting us in our 2019 Jetta, he put everything we needed to know into simpler terms and was very professional!
Extremely pleasant buying experience. very relaxed, friendly, and fun atmosphere. very knowledgeable and helped me out of a car that I was upside down in with extremely high interest and into a brand new car with considerably lower interest.
MerchantCircle
Apr 18, 2019
Absolutely phenomena. Kristina did everything possible to accommodate my wants and needs to get me into a new truck. Cant say enough good things about my experience here today.
Jennifer was an awsome sales rep. and I would recomend her to anyone looking for a car. I had a terrific buying experience.
---