Used Car Dealer Olathe, KS
Looking for a reliable used car, truck, or SUV? Then Volkswagen Lee's Summit is the place for you. As the most trusted used car dealer near Olathe, KS, many local drivers have been counting on us to provide them with an excellent selection of used cars, trucks, and SUVs.
It doesn't stop there, though. When you choose Volkswagen Lee's Summit as your used car dealer near Olathe, KS, you'll be treated to one-on-one service from our helpful sales representatives, so you can focus on finding the used car, truck, or SUV you need.
About Volkswagen Lee's Summit
At Volkswagen Lee's Summit, we strive to offer only the most reliable selection of used cars, trucks, and SUVs, so you know that any vehicle you choose will be working for you for years to come. We also keep a variety of vehicles in many makes, models, and years, so you have the options to find the one that's best for you.
When you come to us for your used car search, our sales representatives will meet with you to learn more about what you're looking for in a used car. With so much variety, it's comforting to have the guidance of an experienced professional who knows these vehicles inside and out, like our friendly team at Volkswagen Lee's Summit.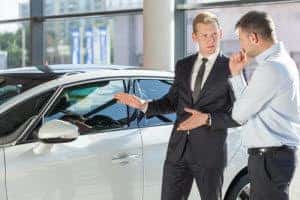 Used Car Financing
Once you've found the perfect vehicle for you, visit the finance center at Volkswagen Lee's Summit to learn what financial options are available. Our financial specialists will discuss your budget and needs to find you a great rate on your auto loan, so you can leave our dealership with the comfort and security of knowing you got a competitive rate on your used car purchase.
No matter your credit situation, we can still help you save money and get the car of your dreams. With our range of competitively priced used vehicles in a variety of makes, models, and years, as well as our expert team of financial specialists, we can get you an excellent deal on the best car for you.
Used Car Service and Maintenance
At Volkswagen Lee's Summit, our dedication to you doesn't end when you find a used car. We want to help you care for your vehicle properly, so it'll run like new for as long as possible. The best way to accomplish this is through routine maintenance from our service technicians.
Our service technicians not only have the most current training and tools to perform all the necessary repairs and maintenance, but they're also experienced with the care and service used vehicles need to stay in peak condition. We want to protect your investment, so come to our service center to discuss your used vehicle's routine maintenance needs and set up a service appointment today.
Find Your Used Car at Volkswagen Lee's Summit
When you're searching for a used car, truck, or SUV, look no further than Volkswagen Lee's Summit, your trusted used car dealer near Olathe, KS. Many local drivers count on us for all their used vehicle needs, so contact us today to see how we can help you!
My experience with Lee Summit Volkswagon was fabulous. Crissean was my sales person and he went out of his way to make my experience easy, I got exactly what I wanted. He listened and knew I was in a hurry, being a single working mom he actually delivered my new Tiguan to me so I could still get to work. I was literally at the dealership for about 20 min. He knew I was rushed for time for work so he offered to deliver my vehicle to me. He did that and I signed the papers in the parking lot. Thats ...
Andrea was very helpful and got me in the vehicle I wanted and delivered the vehicle directly to my door house. Highly recommended and will return for my next vehicle
This is the second time I've had Benjamin for my service provider. He has excellent customer service skills and went above and beyond in making sure I understood the repairs my car needed - which ones could wait a bit and which ones needed to be done soon. He is a true asset to LS VW.
My first impression came from the acceptance and greeting I received. Then I noticed how neat and clean the entire property was maintained. Getting down to business, this place wanted to know what I wanted and how they could best get it for me. Literally, hours were spent with their representative discovering my likes and dislikes. I was surprised to see how compliant their representative was. I was also able to speak with the general manager who confirmed my pleasant experience when he explained what could be done for me. Yes, I purchased a car. The one I wanted!Any ...
Always courteous and quick. My Service Writer Ray is fast to take care of my needs and on top of things....The Service Manager Scott is always checking up to make sure I am happy. Great place to get service. They provide a video of your car to make sure everything is in good shape.
Jake Moore is the best! Very knowledgeable and patient with all my indecisiveness. I came with one thing in mind and his expertise helped broaden my horizons on what to look for when buying a car. Extremely personable and not too pushy. Ask for Jake!
---