Used Car Dealer Olathe, KS
Looking for a reliable used car, truck, or SUV? Then Volkswagen Lee's Summit is the place for you. As the most trusted used car dealer near Olathe, KS, many local drivers have been counting on us to provide them with an excellent selection of used cars, trucks, and SUVs.
It doesn't stop there, though. When you choose Volkswagen Lee's Summit as your used car dealer near Olathe, KS, you'll be treated to one-on-one service from our helpful sales representatives, so you can focus on finding the used car, truck, or SUV you need.
About Volkswagen Lee's Summit
At Volkswagen Lee's Summit, we strive to offer only the most reliable selection of used cars, trucks, and SUVs, so you know that any vehicle you choose will be working for you for years to come. We also keep a variety of vehicles in many makes, models, and years, so you have the options to find the one that's best for you.
When you come to us for your used car search, our sales representatives will meet with you to learn more about what you're looking for in a used car. With so much variety, it's comforting to have the guidance of an experienced professional who knows these vehicles inside and out, like our friendly team at Volkswagen Lee's Summit.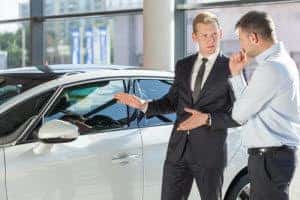 Used Car Financing
Once you've found the perfect vehicle for you, visit the finance center at Volkswagen Lee's Summit to learn what financial options are available. Our financial specialists will discuss your budget and needs to find you a great rate on your auto loan, so you can leave our dealership with the comfort and security of knowing you got a competitive rate on your used car purchase.
No matter your credit situation, we can still help you save money and get the car of your dreams. With our range of competitively priced used vehicles in a variety of makes, models, and years, as well as our expert team of financial specialists, we can get you an excellent deal on the best car for you.
Used Car Service and Maintenance
At Volkswagen Lee's Summit, our dedication to you doesn't end when you find a used car. We want to help you care for your vehicle properly, so it'll run like new for as long as possible. The best way to accomplish this is through routine maintenance from our service technicians.
Our service technicians not only have the most current training and tools to perform all the necessary repairs and maintenance, but they're also experienced with the care and service used vehicles need to stay in peak condition. We want to protect your investment, so come to our service center to discuss your used vehicle's routine maintenance needs and set up a service appointment today.
Find Your Used Car at Volkswagen Lee's Summit
When you're searching for a used car, truck, or SUV, look no further than Volkswagen Lee's Summit, your trusted used car dealer near Olathe, KS. Many local drivers count on us for all their used vehicle needs, so contact us today to see how we can help you!
MerchantCircle
Apr 19, 2019
Our experience with Cory and Matt was great - quick, easy, no haggle, and got a great deal!
We were stuck in a lemon car before coming here. Initially only came for repairs, then decided to take a shot to try and trade my car in. Chris-Topher greeted us. He was very enthusiastic and outgoing and immediately we made a connection. I have purchased many vehicles from different dealers, but never in my life has anyone taken the time and care to make sure we were getting the best deal. Topher made everything perfect and easy for us. He continued to go to bat for us when we were in a difficult spot and we actually ended up with a brand new car. This was such a huge relief as we have children and can't afford monthly repairs or sacrificing safety/reliability. I will never shop anywhere else. If Topher decides to move to another dealer, I will go there.Andy
The wait was long but the service was great. They even did a video of my service. Definitely recommend
I had a wonderful time test driving cars with Kaila who had the patience to listen to my ever changing wants and needs through the whole car-buying process. Even though they didn't have the specific car I was looking for on the lot, and they do have a large number for the model I was interested in, they found it in another state and had it transported up for me. It was my first time looking for a new car so I really appreciated how willing Kaila was to answer questions and how quickly and efficient all of the financing paperwork was completed. The use of electronic documents and signatures saved me a hand cramp and is easier to store at home. I would definitely recommend going here first if you're looking into getting a VW!
Kaila was absolutely fabulous. She got us exactly the car we wanted at the price we wanted.
Christopher Craig was amazing at getting us in our 2019 Jetta, he put everything we needed to know into simpler terms and was very professional!
Extremely pleasant buying experience. very relaxed, friendly, and fun atmosphere. very knowledgeable and helped me out of a car that I was upside down in with extremely high interest and into a brand new car with considerably lower interest.
MerchantCircle
Apr 18, 2019
Absolutely phenomena. Kristina did everything possible to accommodate my wants and needs to get me into a new truck. Cant say enough good things about my experience here today.
Jennifer was an awsome sales rep. and I would recomend her to anyone looking for a car. I had a terrific buying experience.
---