Used Car Dealer Blue Springs, MO
There are many things to consider when you're shopping for a used car, which is why it can be difficult to know where to start. If you're just beginning your used car search, head to the used car dealer near Blue Springs, MO, that local drivers trust for all their automotive needs: Volkswagen Lee's Summit.
We offer a huge variety of used cars, trucks, and SUVs from a range of makes, models, and years, all at the best prices around, but that's not all. When you choose us as your used car dealer, you'll be treated to individual attention and top-notch customer service. You can get behind the wheel of a used car you love.
About Volkswagen Lee's Summit
At Volkswagen Lee's Summit, we pride ourselves on our dedication to our customers' needs, which is why we take the time to learn more about your lifestyle and vehicle needs and work hard to find you the right match. Between our huge selection of used cars, trucks, and SUVs and our professional service, we're sure that you'll have what you need to find a used car you love.
Whether you need a zippy crossover to navigate the city or a large SUV to cart around the whole family, there's an option for you at Volkswagen Lee's Summit. With such variety, you'll be sure to find a used vehicle that fits you.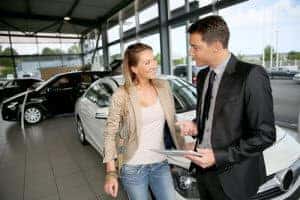 Used Car Financing
When buying a car, you should shop around for the best rate on your auto loan with the financial specialists at Volkswagen Lee's Summit. We're here to guide you through your financing options to help you determine the best rate for your budget and needs, so you can leave our dealership feeling excited about your new (to you) vehicle!
Regardless of your credit history, there's an excellent loan option for you. Our financial specialists have experience with many different credit situations, so they know exactly how to get you the rate you deserve on the used car you want.
Used Car Maintenance
With our many reliable used cars, trucks, and SUVs, you know that you're getting a car that's built to stand the test of time. The best way to keep it performing at its peak is with routine maintenance, which is where our service technicians come in. They have years of experience tending to the unique needs of used vehicles, so they're the perfect team to help you care for your used car, truck, or SUV.
No matter if you have a newer model that just needs a few basic services or a high-mileage vehicle that does the tough work for you, our service technicians will do what it takes to get it running like new in no time. Schedule your service appointment today!
Visit Volkswagen Lee's Summit
If you're looking for a used car, truck, or SUV, then head to the local used car dealer near Blue Springs, MO, known for reliable vehicles, professional service, and unrivaled customer dedication: Volkswagen Lee's Summit. Contact us today to see what we can do for you!
Took hours to buy my car with the back and forth price negotiating. Found out later that my car was hail damaged when bought it. Service department is outstanding though
Great service,over the phone, on the shop, on the vehicle , something that I will reccomend to my friends and all people. Thanks VW Lee summit
I have been a customer of and on since 2014. Have always been treated very well. Service department is great! Sales staff always very good in my experience. Recommend this dealership to anyone needing a new or used vehicle.
Always a great experience at this dealership!
Sam (Samantha) Combs sold my new Jetta Sel to me. Although I am a very demanding buyer; she was able to answer each and everyone of my questions with an immediate and informed response. This young woman is a tremendous asset to your organization. I look forward to both recommending her to others and using her again. This is my 5th purchase from Volkswagen Lee's Summit.
Great experience here at Volkswagen. They were able to get us what we wanted for the price we needed it at. Nice people and great service. They also had a changing room and feeding room for my wife and child to use. Again great experience.
The person in the service department was courteous, helpful and it was a great all the way around. Great to come to a place that cares about customer satisfaction and providing great services.
Appreciate the assistance in getting my car fixed.
---