2018 Volkswagen Tiguan Named IIHS Top Safety Pick
There's nothing better than being equipped with some extra peace-of-mind while navigating the roads of Lee's Summit, North Town, and Overland Park.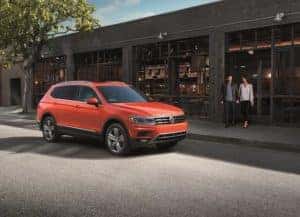 And at Volkswagen Lee's Summit we're proud to announce that the redesigned 2018 VW Tiguan has just been named a 2017 TOP SAFETY PICK by the Insurance Institute for Highway Safety (IIHS). With this SUV by your side, you'll feel confident that your loved ones will remain protected in any situation.
Let's dive into a few details about the specific features of the Volkswagen Tiguan so that drivers of Mission and Olathe understand why this vehicle earned this sought-after title.
2018 VW Tiguan: Your Safety Shield
From top to bottom, the 2018 Volkswagen Tiguan comes prepared to insulate you against any potential threat you encounter on the highway.
That's because this SUV features a robust safety cage that keeps the driver and passengers guarded against crashes. In addition, front and rear crumple zones soak up the force caused by an accident to prevent whiplash and other harmful injuries.
To help you avoid impacts altogether, this automobile arms you with a seven stability-enhancing system that includes a collection of balance-boosting features, such as:
Electronic Brake-Pressure Distribution
Electronic Stability Control
Anti-Slip Regulation
Electronic Differential Lock and more
With any of these innovative tools, your vehicle will automatically adjust its functionalities to keep you sturdy during rough weather or slippery conditions. That way, you'll always know that your ride is working hard to provide you with the surest footing.
In the event that you are involved in an accident, your VW Tiguan will help you get your family to safety with its Intelligent Crash Response System. Thanks to this device, your car will turn off the fuel pump, unlock the doors, and illuminate the hazard lights when it senses that the air bags have deployed.
Security Technology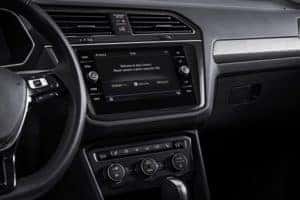 The 2018 Volkswagen Tiguan also offers up some brains to match its impressive brawn. With its available selection of active safety tools, you'll be warned of dangerous situations that could put your family in harm's way. Included in this setup are gadgets like:
Blind Spot Monitor
Rear Traffic Alert
Forward Collision Warning and Autonomous Emergency Braking
Pedestrian Monitoring
Adaptive Cruise Control
Lane Departure Warning and more
When tested by the Insurance Institute for Highway Safety, this vehicle's Autonomous Emergency Braking system successfully avoided a crash at 12 MPH. So, if you find yourself at risk of a collision while operating the 2018 Volkswagen Tiguan, you'll know that your automobile will work hard to prevent an accident or reduce the impact of one.
Want to learn even more about this great SUV? Check out the full 2018 Volkswagen Tiguan Review.
Test Drive Your 2018 VW Tiguan Today!
At Volkswagen Lee's Summit, we want to outfit drivers of Lee's Summit, North Town, and Overland Park with a vehicle that you can count on in any situation.
And as the owner of the 2018 Volkswagen Tiguan, a 2017 TOP SAFETY PICK by the Insurance Institute for Highway Safety, your family and friends will stay safe no matter what the roads of Mission and Olathe throw your way.
To explore more of what makes this dynamic SUV so special, feel free to stop by our showroom or schedule your test drive today!