Synthetic vs Conventional Oil
Many drivers know that synthetic oil is generally better for your engine's performance and protection than conventional oil, but what is the real difference between these two types of oil?
At Volkswagen Lee's Summit, we want the best for our local drivers in Lee's Summit, North Town, Overland Park, Mission, and Olathe, which includes helping you pick the best engine oil for your vehicle. Let's take a look at the differences between synthetic oil and conventional oil and learn which is the better choice for your beloved car. Then, you can check out our service center to schedule an oil change!
Synthetic Oil vs Conventional Oil: What's the Difference?
Conventional oil, like synthetic oil, comes straight from the ground since it's derived from crude oil. As for synthetic oil, it's also derived from crude oil, but goes through an extensive process to modify its protective and lubricant properties. The process that synthetic oil endures enables molecules in the oil to meet the demands of more modernized engines as well as remove impurities from the crude oil, unlike conventional oil.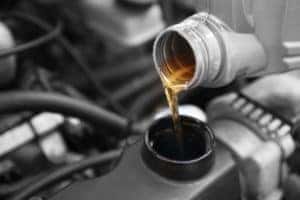 Conventional oil is closer to its natural form, though it contains additives to help it tolerate extreme heat and maintain its viscosity and integrity in your engine. Despite this, conventional oils will break down sooner from the excessive heat in the engine, which is why the high-heat tolerance of synthetic oil is preferred by many drivers today.
Synthetic Oil Advantages
Synthetic oil is more effective than conventional oil due to three main reasons:
Keeps your engine cleaner from debris, sludge, and other impurities.
Protects your engine for longer by keeping it properly lubricated.
Flows quickly even in extreme temperatures.
As it runs through your engine, synthetic oil collects debris and impurities along the way. Conventional oil isn't as effective at doing this, which leads to a sludge over time that can diminish your engine's efficiency and shorten its lifespan. Since synthetic oil is pure and designed to resist sludge, it's better at keeping debris from building up in your engine.
Synthetic oil also provides better protection and lubrication for your engine's many components. With so much metal rubbing against components while your engine runs, an improperly lubricated engine can lead to extreme heat and excessive wear and tear over time. Conventional oil breaks down faster than synthetic, so it's not as effective at lubricating and protecting your engine.
Extremely hot temperatures can also pose a risk to your engine. Engines need protection from high heat they produce, but extremely hot temperatures increase this risk and cause the oil to deteriorate or evaporate sooner. If this happens, it puts your engine in a vulnerable position. Synthetic oil is designed with this high-heat tolerance in mind, so it's better able to cool your engine in these conditions and resists breakdown.
In extreme cold temperatures, your engine oil settles and takes a little longer to flow through your engine when you first start it. The colder it is, the longer this takes, which increases the friction for your engine. Synthetic oil has a better flow than conventional oil, so it's able to protect your engine as soon as you start it.
Schedule Your Service Appointment at Volkswagen Lee's Summit
Now that you know more about the advantages of using synthetic oil, it's time to get your vehicle running its best with an oil change from Volkswagen Lee's Summit. Drivers from Lee Summit, North Town, Overland Park, Mission, Olathe, and nearby communities can rely on us for their automotive needs. Call or visit us today to learn more about synthetic oil vs. conventional oil and schedule your service appointment!