Need a new car for the new school year? 5 things to consider
Whether you're a parent, student, or teacher, going back to school is bound to be different this year. Social distancing, masks, online learning options, sanitation stations—the education landscape has changed dramatically in the last six months.
Thankfully, some things, like the need for reliable transportation, never change.
If you're a parent with carpooling responsibilities, a new college student about to commute for the first time, or a teacher needing to get yourself to work reliably, a new car might be just what you need, and right now is the best time to take the wheel. Here are five things to consider when you shop for a new car this school year.
Carpooling kids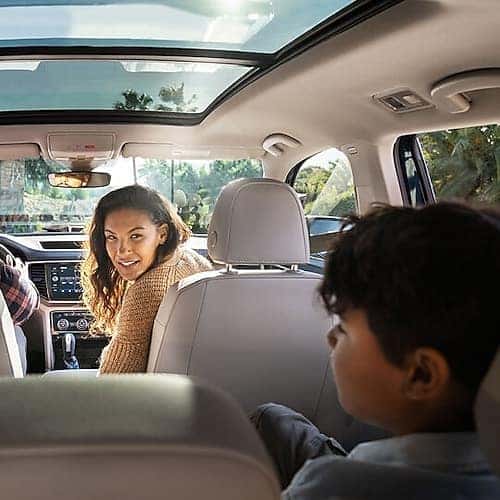 Whether it's a few neighborhood kids or just your own, you need to be able to get to school safely and reliably, with space to spare.
There are a lot of options that can master the carpooling gig, but the Volkswagen Atlas at Volkswagen Lee's Summit checks all the boxes. With more passenger and cargo space, standard features, a longer warranty, and lower price than its competitors, the award-winning Atlas should be at the top of your list for safely, reliably, and comfortably hauling kids and their gear around.
Current deals
If you are feeling the need for a new car, there has never been a better time than right now. With many manufacturers offering aggressive incentives and financing options, buying new might make more sense than buying used.
VW, for example, is offering as low as 0% financing through the end of September on most remaining 2020 VWs, or no payments due until Spring 2021.
Free money always sounds too good to be true, but right now, it's a reality—and a bargain— considering you get a brand new, loaded VW without paying a dime in interest.
Commuting to college
For many new college students, especially those attending commuter colleges, a commute is going to be a new, but necessary part of their daily life. The average commute for a college student is over 26 miles, one way, according to a study published in the Journal of International Education Research.
College isn't cheap, and missing class because your car broke down isn't going to do your wallet —or your grades—any favors.
New, fuel-efficient, inexpensive vehicles like the VW Jetta are perfect for college students. These sedans are spacious, reliable, economical, and loaded with standard features like Apple CarPlay and Android Auto. Plus Volkswagen Lee's Summit is offering excellent pricing incentives on new Jetta models, in addition to their 0% financing offers.
All-wheel drive for Midwest winters
If you've lived through at least one Kansas City winter, you know that weather can be anything but predictable. From ice storms, to freezing temperatures, to snowfall, Kansas City winters require the right kind of tires and vehicle for safe driving. An all-wheel drive vehicle, like the VW Tiguan, Atlas, and Atlas Cross Sport from Volkswagen Lee's Summit, is precisely what you need to get to and from school safely.
Versatility needs
Suppose you're not just a college student, or a teacher, or a parent, or a grandparent, but fill many roles, and have multiple responsibilities for your kids and education. Which car do you buy? One of the great things about modern cars is their ability to do many things well, and VW's lineup does it better than any competitor.
The Atlas and Atlas Cross Sport are perfect for larger families, carpool duties, and hauling loads of soccer gear. The Tiguan and Passat are excellent for smaller families and grandparents running grandkids around. The Jetta is an excellent commuter and perfect for people starting in their academic or professional careers.
With special financing options and pricing offers, there has never been a better time to buy a new car, especially a Volkswagen that can do it all. Check out Volkswagen Lee's Summit for all the best deals on the perfect car for you and the new school year.
Shop all the deals on new and used Volkswagen models at Volkswagen Lee's Summit here.