Here are 5 Reasons the Atlas from Volkswagen Lee's Summit s is the Perfect Winter Vehicle
Winter in Kansas City can be a mixed bag of snow, freezing rain, icy streets, and subzero temperatures, interspersed by dramatically warm and sunny days. Having the right vehicle is vital to staying safe and confident on the roads this Winter. The Volkswagen Atlas has been named the Best Large Utility two years in a row by MotorWeek. Why not drive the best 7 Passenger vehicle out there?
Here's 5 reasons we believe the Atlas is the perfect vehicle for Winter-driving in Kansas City:
The Atlas was Made in America, for Americans
First of all, the Volkswagen Atlas is perfect for Kansas City families because it was designed and manufactured with them in mind. Many people may not realize this, but The Volkswagen Atlas (along with the Passat and soon-to-be-released Cross Sport) was designed and manufactured in Volkswagen's Chattanooga, TN plant.
"The Atlas is an American-made vehicle," said Jeff Davis, General Manager and co-Owner at Volkswagen Lee's Summit. "It was specifically designed for American families and buyers with their needs in mind. It is the size of vehicle our buyers want, the safety features and incredible tech they desire, plus All-Wheel Drive and all-weather tires, and other winter features that our buyers need!"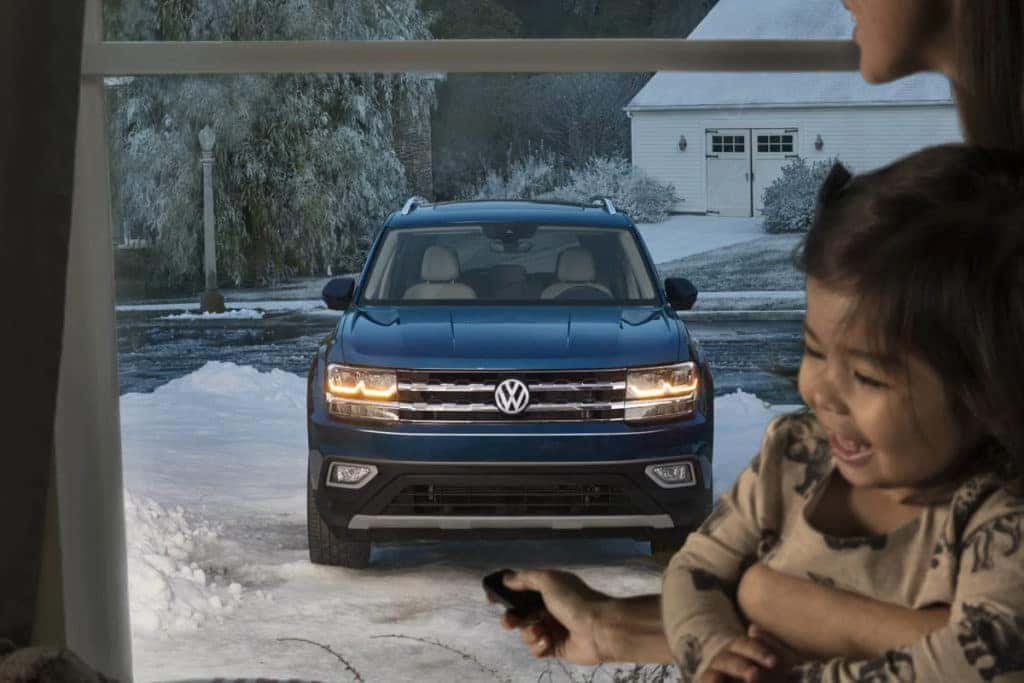 The Atlas Offers Heated Seats, Heated Steering Wheel, and Remote Start
A very popular Winter-feature in the Volkswagen Atlas is the Remote Start! When it's too cold to go outside and start your car, the Volkswagen Atlas has a feature where you just hit a button on your key fob and it will start your car, warming up the seats and engine while the doors are locked so you can stay warm while your car safely heats up.
Another feature perfect for Kansas City winter driving is the heated seats and steering wheel. Many models of the Volkswagen Atlas offer heated seats – you can choose from three levels of heat depending on the weather. Further, the higher trim levels of the Volkswagen Atlas offer a heated steering wheel as well!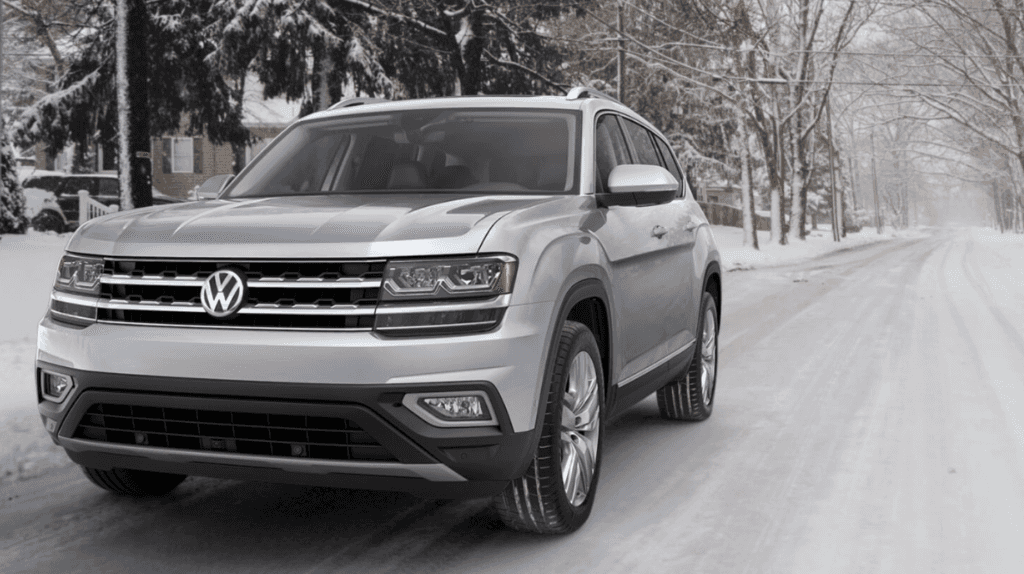 The Atlas Offers a Specific Winter Driving Mode in its 4Motion Engine Technology
"One of the most exciting things about the Atlas is 4Motion technology in the AWD trims," says Matt Ottosen, General Sales Manager for Volkswagen Lee's Summit.
The 4Motion All Wheel Drive system distributes engine power separately to all four wheels depending on road conditions. So if it's snowy or wet, the Snow Mode 4Motion will allow the engine to shift into higher gears earlier, minimizing slipping and providing as much traction and stability as possible.
The Atlas offers four driving modes: Snow Mode, Off Road, On Road, and Custom. "In our opinion, these extra safety features make the Atlas superior to any other 4-wheel drive system and guarantee you not only the safest ride but the smoothest possible too," says Ottosen.
The Atlas Allows You To Stay Connected and Navigate Safely
The Volkswagen Atlas at Volkswagen Lee's Summit offers Apple CarPlay or Android Auto (depending on your phone type), allowing you to use your phone apps without ever taking your eyes off the road.
"Our customers love this feature," says Davis. "With all of our Volkswagen vehicles, you can navigate using Waze, Google Maps or Maps, listen to your favorite Podcasts, Pandora, Spotify, or Music on your phone, plus voice TEXT and call without ever touching your phone. Our Volkswagen models make it easy to stay connected with both your hands still on the wheel at all times."
In fact the Atlas was named one of Ward's 10 Best User Experiences for Smart, Safe, Connected Vehicles. "Atlas was built specifically with the American consumer in mind," said Hendrik Muth, Senior Vice President, Product Marketing and Strategy. "It offers a host of available technology and driver assistance features designed to make people's lives easier. We're very encouraged to be recognized with the Wards 10 Best UX award—it means we're getting it right."
All Atlas models are equipped with the MIB II infotainment system, which not only creates the foundation for the next generation of Volkswagen's Car-Net® connected vehicle services platform, but also offers one of the most comprehensive suites of connected vehicle services and features available in the automotive industry today. Capacitive touchscreens offer SD card and USB multimedia interfaces, as well as Bluetooth® technology for compatible devices. Atlas SEL Premium presents drivers with a 12.3-inch fully-digital instrument cluster with the advanced Volkswagen Digital Cockpit system.
Volkswagen is committed to driving the development of more connected and intelligent vehicles, and the VW Car-Net® connectivity system is a major element in achieving that goal. Features available through VW Car-Net are divided into three key areas: "App-Connect," "Security & Service," and "Guide & Inform."
Driver Assistance Technology to Keep You Safe in the Atlas
Finally, the Volkswagen Atlas offers a myriad of driver assistance features to keep drivers safe on Winter roads in Kansas City. The SE models feature a blind-spot monitoring system that lets you know when someone is in your blind-spot! The SE with Technology trim features adaptive cruise control – slowing the car down when someone is too close to you, Lane Assist, which keeps you in your lane, and Front Assist, which offers automatic emergency braking in case of a hazard in the road or accident.
For drivers wanting even more safety technology, the 2019 Volkswagen Atlas SEL Premium comes equipped with a parking assistance system and Volkswagen Digital Cockpit, a virtual gauge cluster display which provides light driver assistance, navigation and awareness features in place of the standard gauge cluster.
Get The Atlas at Kansas City's #1 Volkswagen Dealer
Volkswagen Lee's Summit has the largest selection of Atlas vehicles in the Kansas City area! Volkswagen Lee's Summit is Kansas City's #1 Volkswagen dealer for volume sales and customer satisfaction since it's opening in 2014 (Based on VW retail reports 2014-2019+) Come see why more people prefer Volkswagen Lee's Summit. Visit today just off 470 and Colbern road or visit VWLeesSummit.com.