Best Pubs for St. Patrick's Day near Lee's Summit, MO
Finding the perfect spot for your St. Patrick's Day is as simple as locating some delicious bites and plenty of drinks…preferably Guinness. So, to follow the path to your next pot o' gold, all you need is a little bit of luck and our guide to the Best Pubs for St. Patrick's Day near Lee's Summit, MO.
Let's hop around these local hotspots that'll have you feeling as happy-go-lucky as a leprechaun…
Brick's Pub and Grub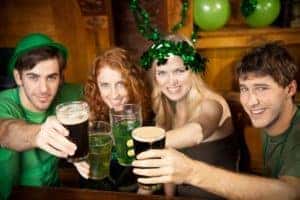 With plenty of open space to dance your favorite Irish jig or enjoy a hearty ale, Brick's Pub and Grub has all the ingredients for an exciting St. Patrick's Day. This destination offers up lots of mouthwatering delights that pair perfectly with beer, wine, or any other type of booze.
For example, the soft pretzels served with homemade beer cheese make the ideal appetizer to kick off your St. Patrick's Day festivities with your family, friends, and loved ones.
Don't forget to choose a plate of Irish spuds in the form of the Chili Cheese Fries, which come with a choice of beer cheese, queso, or nacho cheese. With these options, you can customize your plate of fried potatoes to suit your taste palate.
In addition, you'll pair your pre-gaming bites with a St. Pattie's Day drink, such as the Irish Mule, or select a beer from their lineup of thirty-three craft brews.
Check out some of their other alcoholic concoctions by visiting their Facebook page!
Llywelyn's Pub
For those lads and lassies who won't settle for anything less than a place that's steeped in Irish heritage, look no further than Llywelyn's Pub. This Celtic joint satisfies all those cravings for traditional tavern fare by offering up lots of options to fully enjoy your day of luck.
From dishes like classic Pot Roast to Fish and Chips, and everything in between, you're sure to bite into your favorite stick-to-your-ribs grub.
Take a walk on the wild side with something like Bangers and Mashed, which serves up two grilled lamb sausages with roasted garlic mashed potatoes, green beans, and a roasted mushroom cream sauce. Or dive into some Pub Curry that's piled onto a bed of crispy fries.
Stop by their Facebook profile for a look at some of their Irish beers!
Summit Grill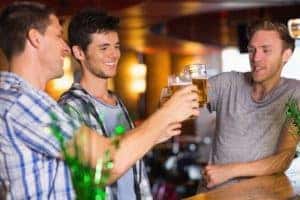 Finish off your March 17 feast at Summit Grill. No matter what your taste buds need, this local dive has all the fixings to keep you feeling your best throughout the whole night.
For an entrée that's so good you'll be singing the Irish National Anthem, try out the Corned Beef Brisket Reuben. This hefty sammie comes decked out with house-braised brisket, bavarian sauerkraut, swiss cheese, marble rye, and thousand island dressing.
In addition to traditional Irish dishes, you can also select a decadent steak like the Black Angus Ribeye that's accompanied by potato croquettes, sautéed asparagus, and covered in a choice of sauces like mushroom demi-glace, peppercorn cream sauce béarnaise, and more.
Take a gander at their upcoming events by heading to their Facebook!