Best Places to Watch the Big Game near Lee's Summit MO
With the Big Game quickly approaching, it's time for you to get suited up in your football jersey and ready to tackle the day with all the food, booze, and entertainment you need to enjoy every moment.
So, to guide you to the best game day festivities in your area, we're here with a selection of local hotspots near Lee's Summit, MO, that'll hook you up with top-notch bites and libations.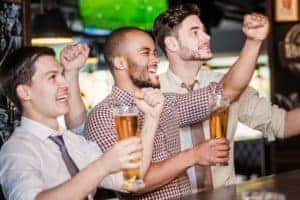 Once you've read more about these delicious destinations, all you have to do is call up a few friends, hop in your car on the big day, and cheer on your favorite team.
Big Whiskey's American Restaurant & Bar
You can't watch a game this thrilling without munching on some amazing wings. And at Big Whiskey's American Restaurant & Bar, you'll fill your stomach with just that, as well as a huge selection of wing sauces, ranging from mild and tangy to hot and fiery.
On top of that, this joint also serves up Boneless Wings with the same choice of sauces, including Garlic Parmesan, Honey Whiskey BBQ, Honey Sriracha, Raspberry Inferno, Extreme Buffalo, and much more. Round out your meal with a few of this dive's other appetizers, like Fried Pickles, Boom Boom Shrimp, and more.
Try out one of their entrees like the exotic Thailand Tacos, with grilled chicken, peanut sauce, cabbage, and topped with Thai chili sauce and fresh cilantro.
Check out their Facebook page for mouth-watering photos of their dishes!
Wally's Grill & Drafthouse
If you're the type of game-day fanatic who wants to be surrounded by comfort food, head on over to Wally's Grill & Drafthouse. After you've grabbed a table, your dose of fried chicken will be served up in the form of Cluckers, which are Buttermilk Brined Chicken Tenders, with a choice of herb ranch or BBQ sauce.
Test out a twist on classic nachos with their Loaded House Chips. These crunchy slices of potato heaven are dressed to the nines in bacon crumbles, cheddar cheese, scallions, and sour cream.
Plus, the rustic bar is the perfect place to cozy up, grab a meal, and soak up every minute of the most exciting game of the year.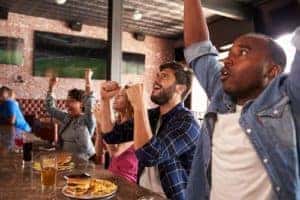 Take a virtual tour of this restaurant by hopping over to their Facebook!
54th Street Grill & Bar
Finding a funky dive that's equipped with awesome bites and a huge bar can be tough, but at 54th Street Grill & Bar, they've designed the ideal space for rooting on your favorite team. Here, every wall includes unconventional knick knacks and novelties that'll grab your attention during commercial breaks.
And, of course, you can't forget about the food! At this joint, your appetite for just about anything will be satisfied with their gigantic menu filled with Munchies, Mexican entrees, Sandwiches, Burgers, Southern Favorites, Seafood, and so much more.
Take a bite of the Catfish Called Wanda, which is hand-battered, fried, and accompanied by mashed potatoes with country gravy and a choice of southern sides.
Watch a few of their videos by visiting their Facebook profile!