5 Signs Your Oil Needs Changing
Here at Volkswagen Lee's Summit, our team of expert automotive technicians understands the importance of regularly changing your oil. After all, they've been helping out our Missouri and Kansas customers with that sort of thing for years, from Lee's Summit and North Town to Overland Park and Mission to Olathe and beyond. Contact us if you think that your car needs an oil change immediately.Or, if you're not so sure, check out this guide to the top five signs your oil needs changing right now.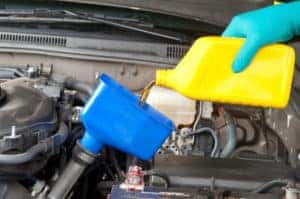 How do I know if I need an oil change anytime soon?
Your car's engine oil keeps all of its moving parts well-lubricated, which means that you stay in motion.
Without further ado, let's dive right into it. Here are the signs and symptoms of needing an oil change:
1. Dark, Dirty, or Gritty Oil: Fresh, clean oil should have an amber color to it. However, as it gets infused with a bunch of particles and residue from the engine, it turns to a dark and dirty color, and it takes on a gritty consistency. You can judge this by removing the oil dipstick right away.
2. Engine Knocking Noise: Needless to say, your engine shouldn't constantly be making loud and annoying knocking noises as you drive around. However, we do feel the need to say that, if it is noisy, an oil change might fix it. You can schedule an oil change today at Volkswagen Lee's Summit.
3. Dashboard Symbols: Either the Oil Change Light or the Check Engine Light could indicate that it's time for an appointment. This is the simplest and easiest way to determine when it's time.
4. Exhaust Smoke: As the weather gets colder (especially in MO and KS!), it's pretty common to see a translucent vapor coming out of your tailpipe. But, on the other hand, if you notice that outright smoke is being emitted, you should check your engine oil. There could be a big leak!
5. Cabin Oil Smell: If you're driving around Olathe, Mission, Overland Park, North Town, or Lee's Summit, and you catch a strong whiff of oil (or gas or exhaust fumes), schedule with us ASAP.
Last, but certainly not least, two other important factors to keep in mind are time and miles. If you can't remember the last time that you had an oil change, or you're overdue on your vehicle's manufacturer-recommended maintenance schedule, then it's time to get an oil change, even without the above signs.
Schedule your service appointment now at Volkswagen Lee's Summit!
Lucky for you, you're not far away from some of the top VW-oil-change specialists in the region. Our guys and gals will always service your car, truck, crossover, SUV, minivan, or other model with only the utmost professionalism—respect, efficiency, and effectiveness. Interested? Schedule your appointment!
Just call us on the phone, chat with us on our website, text us from your cell phone, or stop by in person